A stubble beard stands in no time and is nice and easy to maintain. It brings just those accents with which you give your face more power. You create a cool look with it and you do not immediately have to show your identity card when you buy a six-pack of beer at the Appie.
But if you're not careful, it quickly turns into a real beard and you want to prevent that. The perfect way to keep your muscular stubble in shape quickly, easily and stylishly? We briefly explain it to you below.


How long is a stubble beard?
A light beard growth is characterized by fine hairs and they do not all grow equally. These thin hairs are less noticeable and so you have to leave your stubble in this case just a little longer for the visible shadow effect.
With a heavy beard growth you have thicker beard hairs. These generally grow nicely evenly and provide better coverage on your facial skin. Keep in mind that you need a powerful beard trimmer because these hard hairs offer more resistance.
Stubble lengths:

Short stubble (5'o-clock shadow): 0.1mm - 2mm
Medium stubble (medium stubble): 2mm - 4mm
Long stubble (long stubble): 5 mm



How do you trim stubble?
With a beard trimmer that is a simple job, but let's take you point by point how you can achieve the best result as easily as possible to trim your stubble beard smoothly and accentuate it as tightly as possible.
Step 1: Choose the right length
Make sure you mount the 1-10mm comb and then set it to a setting of 3 to 5mm . You can then always adjust the comb of your trimmer shorter so that you achieve the exact stubble length you want. Make sure you trim your entire beard to 1 length.
Step 2: Use a precision trimmer
With a precision beard trimmer you can perfectly trim your stubble beard to 1 length and grab all corners.
You move your beard trimmer from bottom to top, against the hair direction so that it smoothly grabs all beard hairs. Check carefully in the mirror if you have reached the entire beard. In addition to your full beard, you also trim your sideburns so that your stubble is completely trimmed to the same length.
If you are still looking for a good trimmer with which you can easily trim, contour and style your stubble, the Phillips OneBlade is an excellent choice.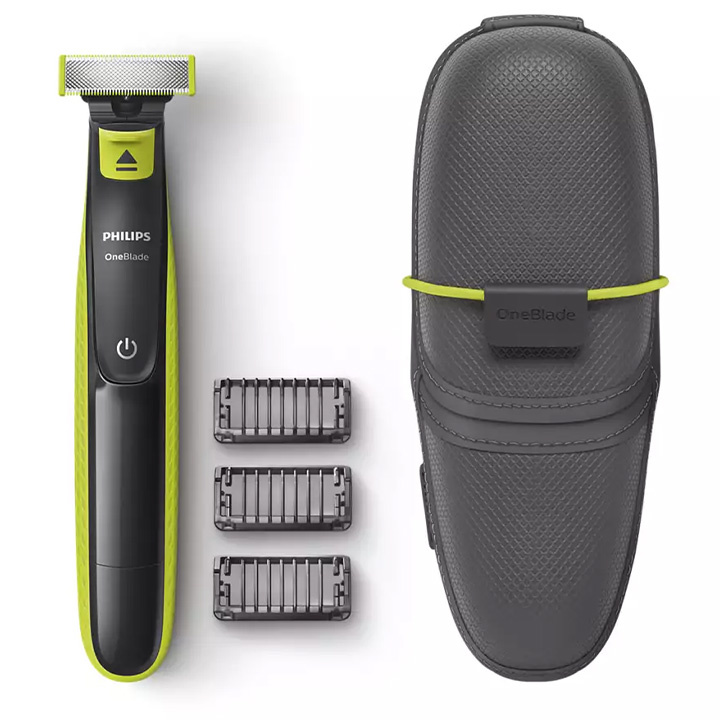 Step 3: Shape your stubble
When your stubble beard is trimmed to 1 length, it's the turn of the hairs at your neck. Remove the comb from your beard trimmer so that you gently trim away the hairs on your neck from bottom to top with the blade of your trimmer.
Trim from the top of your Adam's apple to the bottom of the jawline to create a sharp line. Do in a semicircle from earlobe to earlobe. With policy so that you don't go too far.
Step 4: Apply contouring
Now it's time to shave the areas around your stubble with your safety razor and fresh double edge blades . This type of razor gives you the opportunity to see exactly how to shave your contours symmetrically.
To keep a good view of the lines of your stubble beard, a transparent shaving gel is suitable. Carefully shave the area adjacent to your stubble. So along the edges of your beard and mustache and from neck to jawline.


How do you take care of your stubble?
There are a number of steps you should take to keep your stubble beautiful, healthy and tidy. With a good grooming routine you also prevent a common irritation when leaving a stubble beard, namelybeard itch . With a good beard oil, your beard hairs will become softer and cause less irritation.
Daily: Clean skin and beard hair with a facial cleanser
Daily: Moisturize skin with a moisturizing face cream
Daily: nourish beard with 1 to 2 drops of beard oil
2 - 3 x a week: trim beard length with a (precision) trimmer
2 - 3 times a week: contour with a razor
One last tip: read our article 'What you can do against bald spots in your beard ' so that you can do everything you can to let your stubble grow as healthy as possible.
If you still have questions, we would like to hear from you. And otherwise good luck with cherishing and taking care of your cool stubble beard!
Your friends, The Alpha Men.