When we talk about hair styling products, we usually talk about pomade or clay . Matte or gloss. Texture or tight. Especially the hairstyles with texture, volume and a natural look are becoming increasingly popular. Most men then immediately end up with a clay . A paste is then quickly overlooked.
The matte paste is still quite often the neglected child. We think that's a shame! Because it is an incredibly versatile product that often gives better results than a clay.
Especially in this day and age, men have slightly longer hair . Logical, the hairdressers were closed and the slightly longer haircuts are very popular anyway. A paste is just so much more suitable. More suitable than a slightly heavier clay. Just to be clear, a paste has many similarities with a clay. It is actually also a kind of clay, but finer in structure and lighter in your hair. A clay is a bit drier. It basically contains many of the same ingredients as a clay.
The advantages of this are that you distribute it more easily in your hair and your hair becomes less stiff. This makes it easy for men with thick hair. On the other hand, it is light enough for men with thin hair . Thin hair quickly becomes too heavy and then falls. In this day and age, men often have longer hair and then a paste comes into its own. Easier to distribute and less heavy in your hair. Your hair stays nice and light, so it stays in shape longer.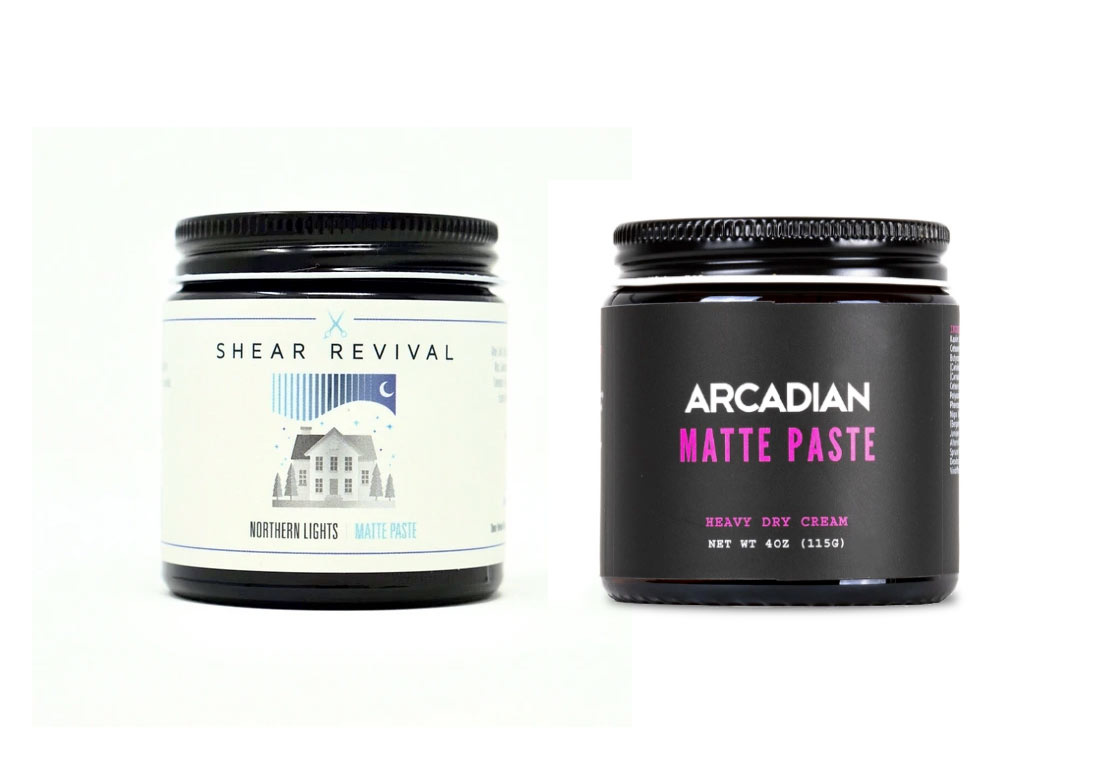 We want to introduce you to the two best products in this area right away. The Shear Revival Northern Lights Matte Paste and the Arcadian Matte Paste . Now Shear Revival paste is very famous and popular. Arcadian 's Matte Paste is less so. A real underdog in this battle. Unjustified as far as we are concerned. They are very similar. Only if you put both jars next to each other. They have the same shape but a different label.


About both brands
Both brands only make handmade and natural products. Shear Revival started producing its own products in 2013. The founders Zachary, Jessica and Ashley were looking for a product that consists of natural ingredients and also contributes to the health of the hair and scalp. There simply wasn't. In recent years they have worked hard on such products and the Northern Lights Matte paste is the ultimate result of this.
Arcadian Grooming started around the same time with the same idea. Founder Eric Dale started early on to make products from natural raw materials that he mainly used for himself. He never found what he was looking for in other products. The Matte Paste is his ultimate product.
Both brands strive for the best quality in terms of ingredients and hair styling. The stories almost match. That is why a battle between the incredibly popular Shear Revival and the less well-known Arcadian Grooming in the Netherlands.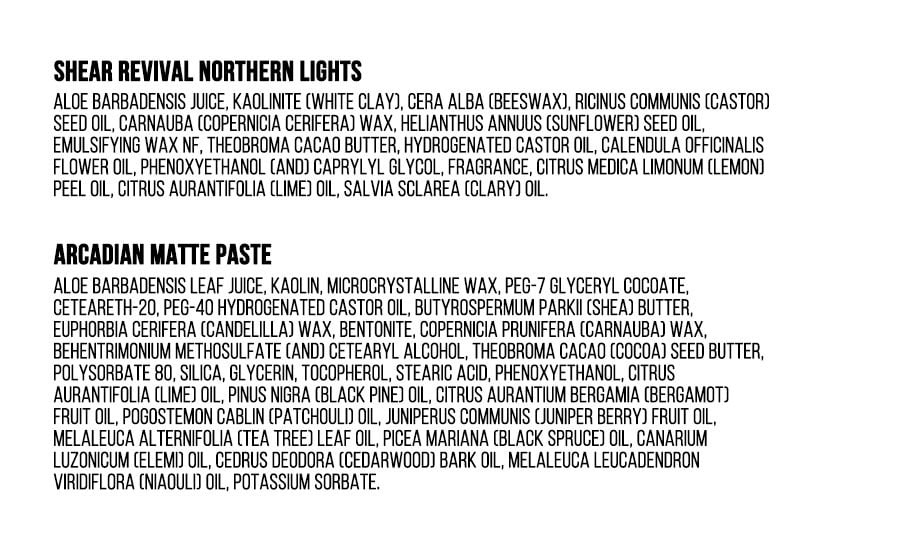 Ingredients
If you look at the ingredients, you will see how similar these products are. Both have only put the best for your hair in a jar. All natural and responsible. The list of the Arcadian Matte Paste is a bit longer. This contains just a little more caring fabrics for the hair. The Northern Lights from Shear Revival, on the other hand, contains slightly fewer substances for shelf life. It is striking that the Arcadian Matte Paste also contains Bentonite in addition to Kaolin. This is a natural type of clay that provides a lot of hold, volume and texture. Shear Revival's Matte Paste only has Kaolin. This makes the biggest difference. Qualitatively, both products are neck and neck in terms of ingredients. Both products one point.
Current Score = 1 – 1


Odor
Then we come back to smell. Something you might think completely differently about. The Shear Revival Northern Lights smells of citrus and sage but very subtle and fresh. It has a very natural scent. The Arcadian Matte Paste is somewhat similar. Also that citrusy but just a little more spicy, with a woody undertone. Something more masculine. Therefore one point for the Arcadian Matte Paste.
Current Score = 2 – 1 for Arcadian.


Structure and apply in the hair
Here the differences are slightly larger. When you run your finger through the jar of Shear Revival, you glide effortlessly through the substance. This one is wonderfully soft and consistent. This makes it very easy to apply in the hair. You can feel it pulling a little bit, but that is something that is common with products with clay.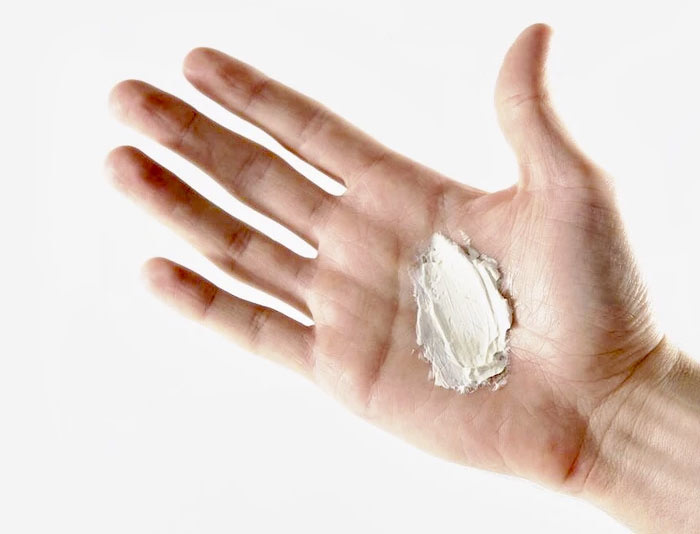 Arcadian's Matte Paste is slightly firmer. Removing it from the jar still takes little effort, but you have to press just a little harder. The substance is very nice and consistent. Applying it in the hair is just a little stiffer. You notice that the Matte paste has slightly more clay components. Furthermore, the application is also quite easy. Use small amounts is our advice. This point goes to Shear Revival. 
Current score = 2 – 2 tie.
Styling
Both products do this really well. The Northern Lights Matte paste does exactly what you want. The Arcadian Matte Paste does this slightly better. Just a little more control and, above all, more volume. This is thanks to the added bentonite, which Shear Revival's Northern Lights does not have. This point goes to Arcadian.
Current Score = 3 – 2 for Arcadian.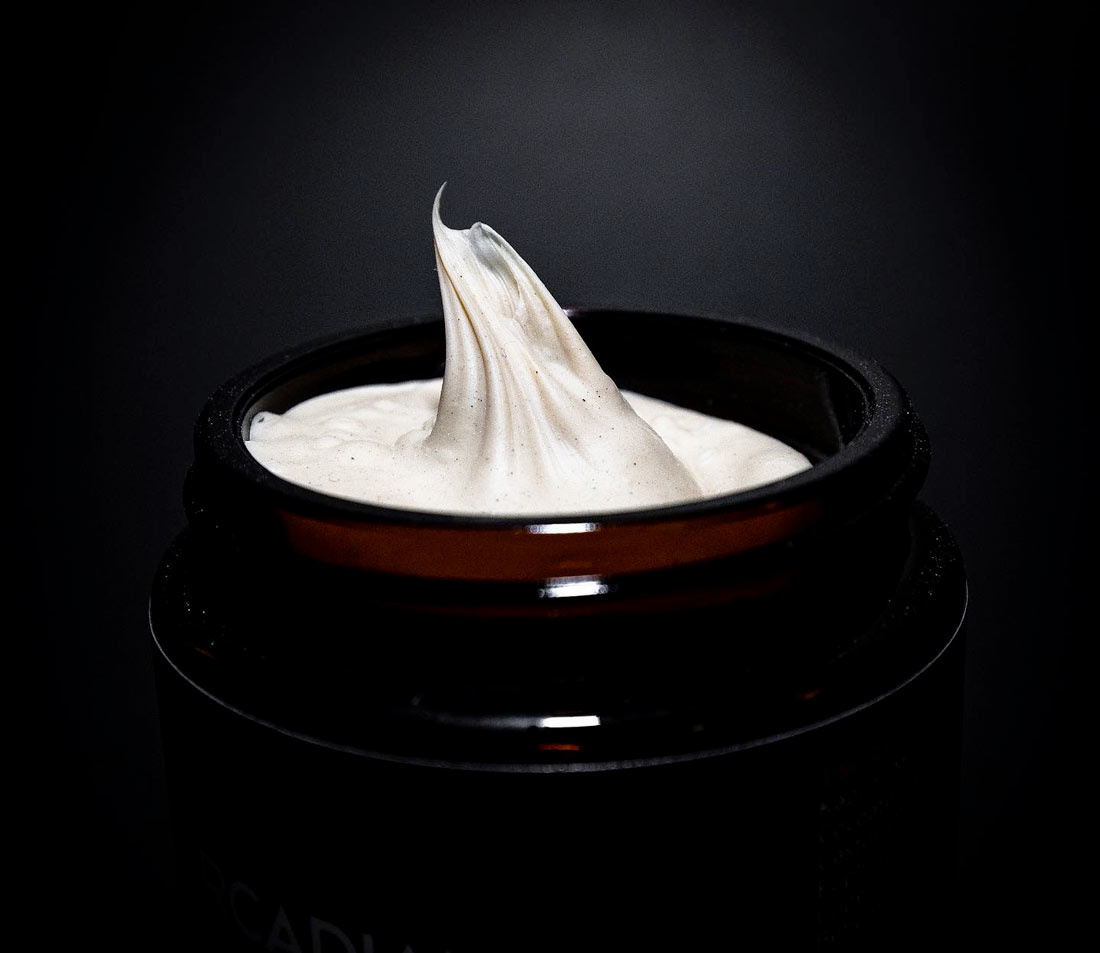 Hold
The biggest difference between the two. The Arcadian Matte Paste easily beats the Shear Revival Northern Lights here. Even after a full working day, your hair is still in perfect shape, with lots of volume. With this paste it is also easy to remodel your hair. Shear Revival's Northern Lights certainly doesn't do this badly either, but it sinks in a bit faster. The hold is just a bit less. One point for Arcadian.
Current score = 4 – 2 for Arcadian.


shine
Both products must be a matte paste. They are. They don't seem as dry as a normal clay, but they certainly give a nice matte finish. The difference is therefore very small. Therefore one point for both products.
Current Score = 5 – 3 for Arcadian.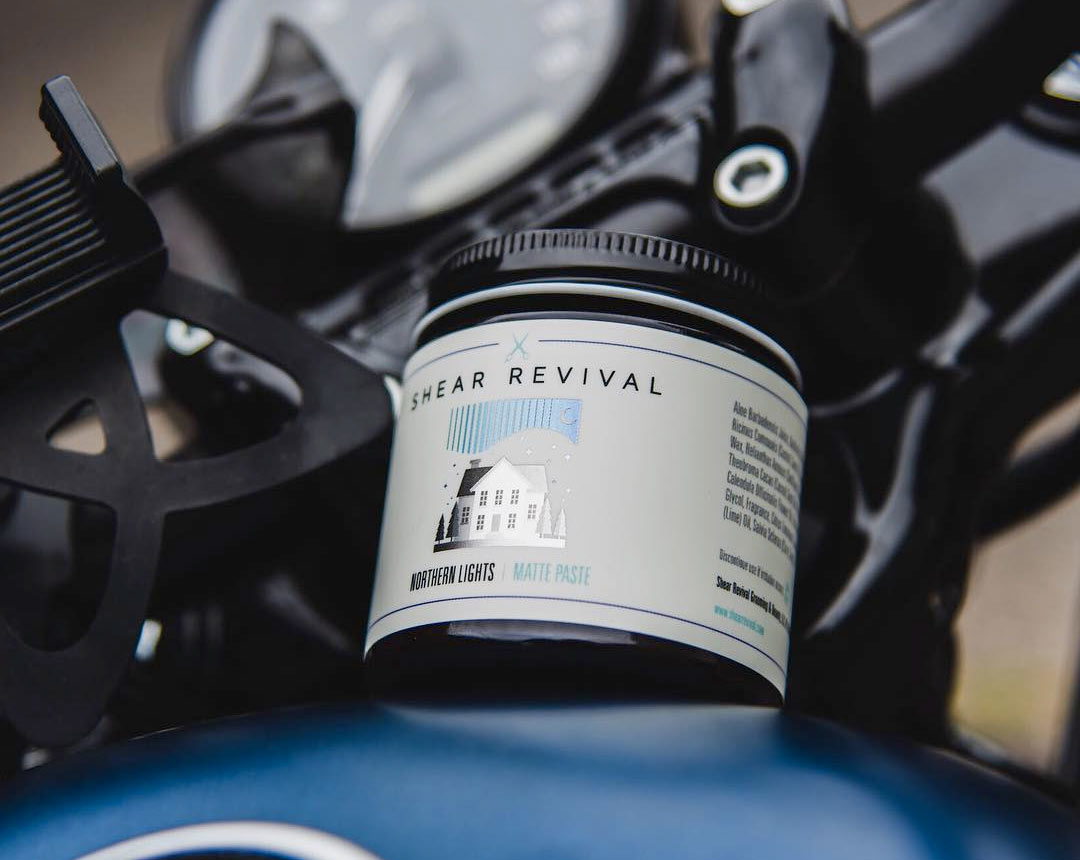 wash out
Also not entirely unimportant is the washing out of the products. Something where many products fail. Both products do this wonderfully. Effortlessly get it out of your hair. Another advantage is the great ingredients that both products contain. It makes your hair nice and soft. You notice that after washing. This is clearly a tie. One point for both.
Current Score = 6 – 4 for Arcadian.

Price
Both products cost the same in our webshop. For € 19.95, you get 115 grams of Matte Paste from Arcadian and 96 grams of Northern Lights from Shear Revival. You will hardly notice the difference. That is why we think that both products get one point for this.
Current Score = 7 – 5 for Arcadian.

And the winner is…
With a difference of two points, the Arcadian Matte Paste is the winner. The decisive factor for us is that good hold and the amount of volume and texture. Is Shear Revival's Northern Lights Matte Paste undeservedly so popular? Certainly not! It remains a top product.
Still, Arcadian's Matte Paste really pleasantly surprised us. A product that we will continue to use for a long time.


Got inspired? We have selected even more interesting items for you:
Battle: Forte Series Texture Clay vs Hanz De Fuko Claymation
Battle: Lard Red High Sheen Pomade vs Uppercut Deluxe Pomade