Short hair is attractive to men who don't want to spend hours in the mirror in the morning. It is reasonably maintenance-free, looks fresh and you still have a lot of options. But.. we need to talk about those options. It is not the case that there is only one way to style your short hair. Nope, there are many ways. If you start your search online, you often end up overstimulated. There are like that. a lot of. choices. Time to list the most popular, most beautiful and currently the most trendy short haircuts for men!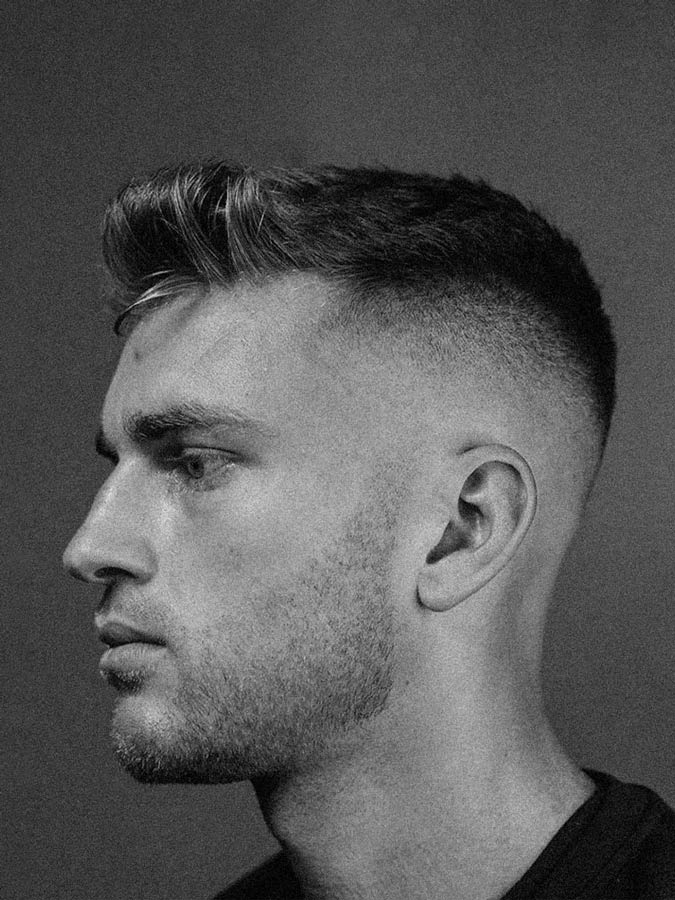 Crew cut
Don't let all the fancy names these hairstyles have fool you. The Crew Cut is a relatively easy hairstyle. It's easy to keep neat, fresh and stylish. But then you have to know how.
With the crew cut, your hair on your head is a bit longer than the sides. At the crown (front of the middle of your head) the hair is a bit longer again. This creates a horizontal line when you look at your hair from the side. Note: the crew cut is ideal if you have a rectangular face, and especially in combination with thicker or fuller hair.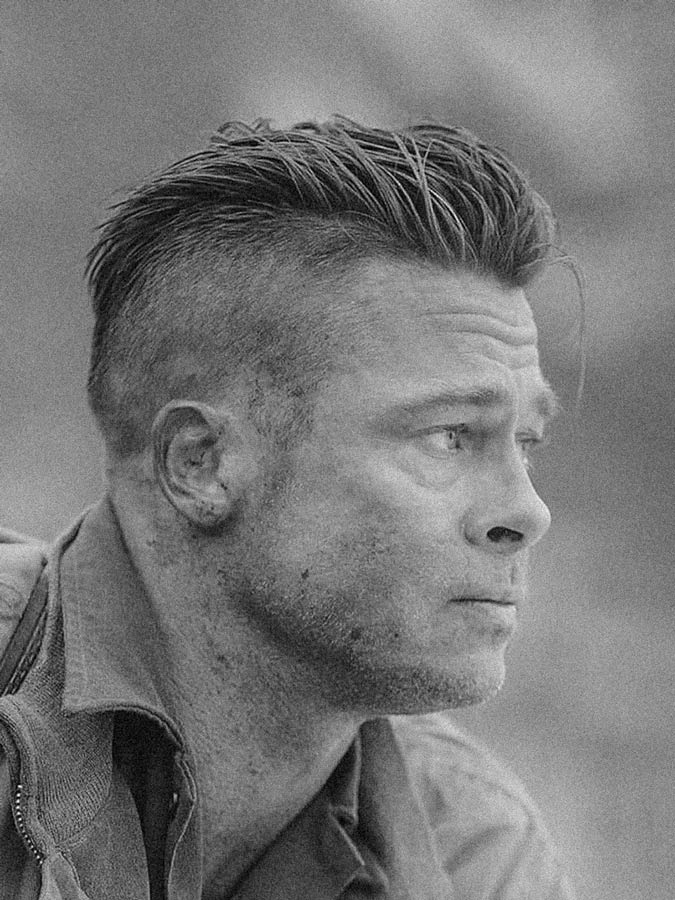 Undercut
The Undercut is somewhat similar to the Crew Cut, but is fundamentally different. The basics remain the same: the hair on your head is longer, the sides are shorter, and all the way up to the crown of your head is longer. The difference with the Crew Cut is that your hair on your head and crown is a lot longer. The hair can therefore be worn in many different ways. The most popular way to wear the Undercut is to style the longer hair back for a clean cut. This men's haircut with short hair is one of the most popular hair styles of 2022 for a reason.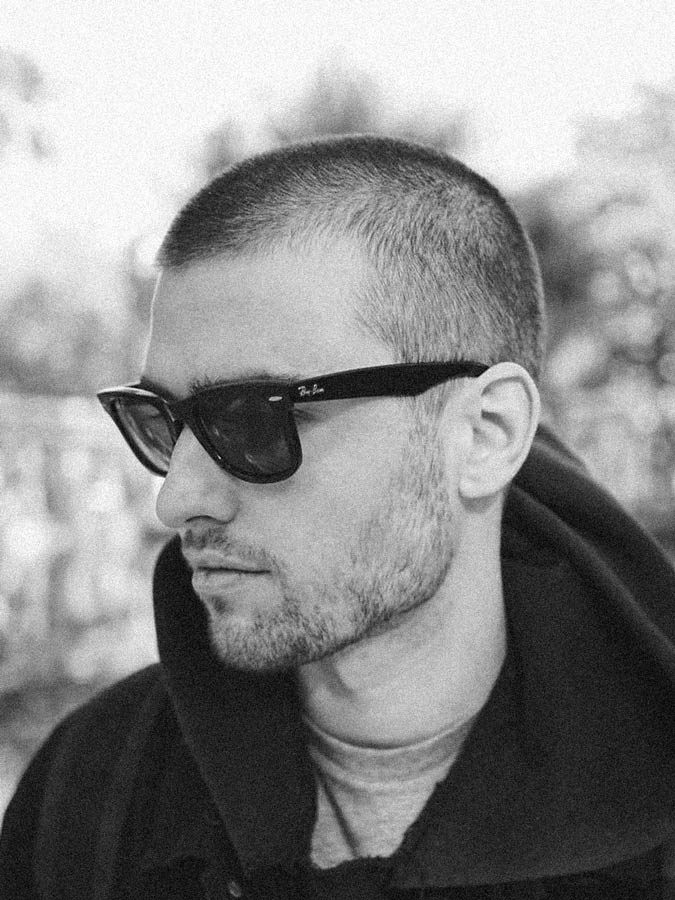 Buzz cut
Ah, the Buzz Cut. A real timeless classic that can be seen in the streets every year. In a classic Buzz Cut, the hair is short and the length is the same on every part of your head. The best thing about this hairstyle is that you absolutely do not have to style it. You never have a bad hair day, it's maintenance-free (except for a hairdresser's visit from time to time), and it's always a neat haircut. These men's short haircuts are ideal for the man who doesn't feel like picking up different styling products and spending hours in front of the mirror.
The Buzz Cut has also increased in popularity again due to the mega popular series 'Peaky Blinders'! Just pay attention the next time you look. This short haircut for men can be seen on your screen every episode.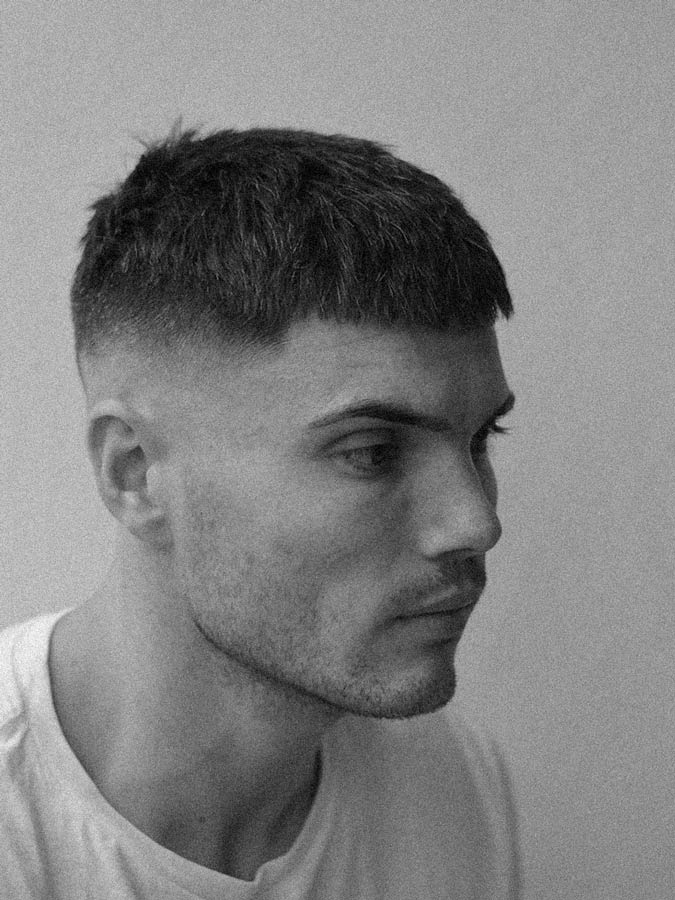 French Crop
The French Crop popped up out of nowhere years ago. This haircut has been out of the picture for a while, but in 2022 we saw the rise of the French Crop return.
This is one of the hairstyles for men who want to have short hair. The sides are shaved short, while the hair on top is longer. With this hairstyle, the longer hair on your head must be the same length. With the Crew Cut and the Undercut, the hair often flows subtly, but the French Crop is very clear in its transition. This makes the hairstyle very low maintenance and if your hair is a bit thick, you often don't even need to use a product. Ideal, if you ask us!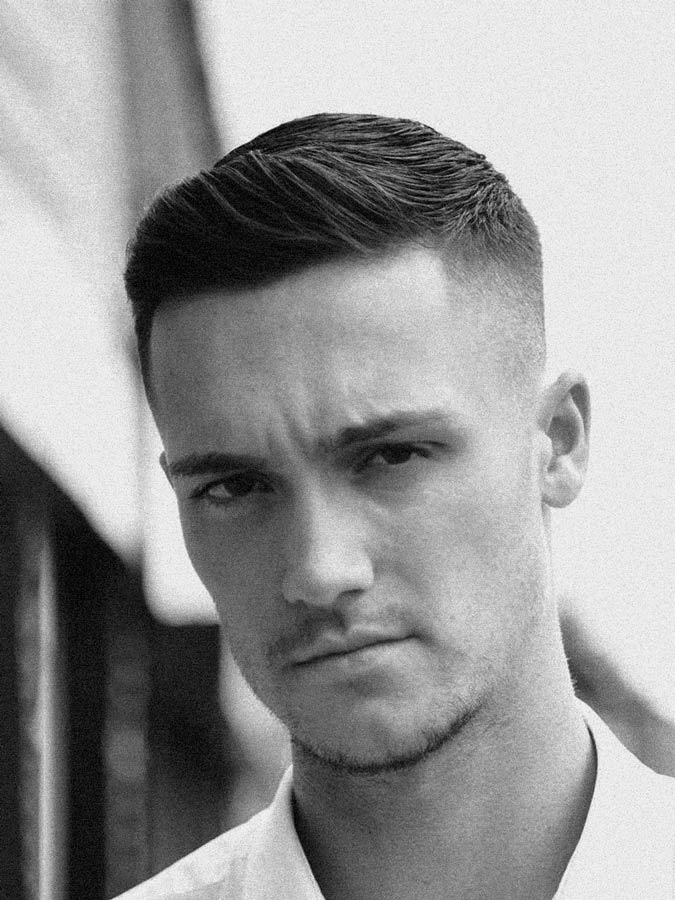 Ivy League
The Ivy League hairstyles, named after students of well-known American universities such as Harvard or Princeton. It is not for nothing that the haircut is named after these types of students, as the haircut exudes a certain professionalism and businesslikeness. It is a classy, ​​neat hair style that, in addition to a business life, also fits into the nightlife at home.
The hair on your head is a bit longer than your hair on the side, but no horizontal line is necessary here. The longest hairs are officially seen as only 2 cm. Because it is so short, you will not create a large quiff, but a subtle 'mini quiff'.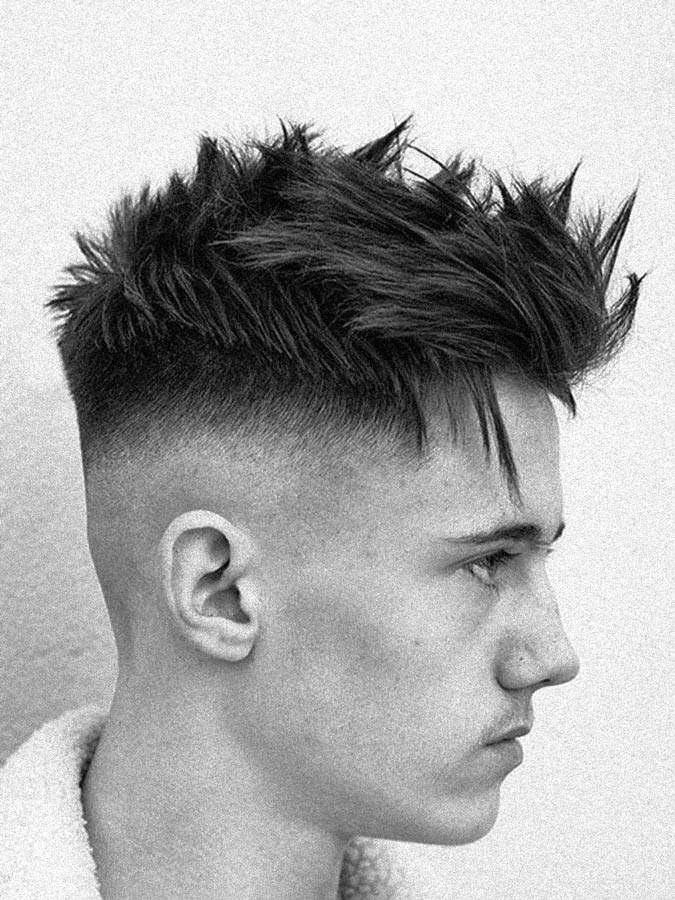 Fade with Spike
This hairstyle is perhaps less known, but certainly worth mentioning. Actually, this haircut is very similar to the shaved haircuts. But where you often wear your hair back or forward with the shaved hairstyles, you wear your hair in a point upwards with the Fade with Spike. Hence the name 'Spike'. It takes a little time in the morning, but this is an edgy hair style that looks great on many men.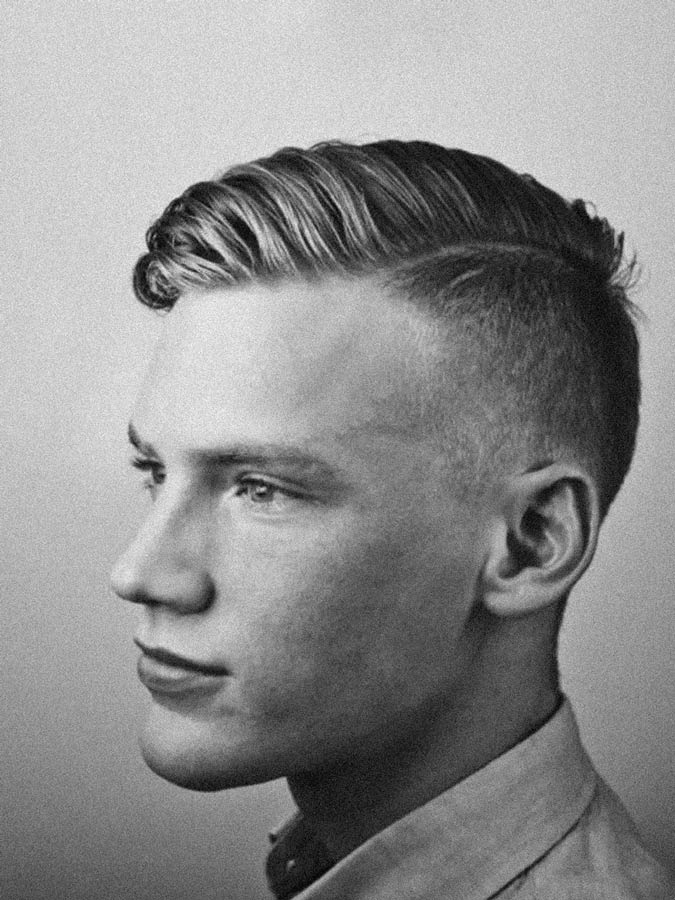 Comb over Fade
This haircut became popular in the 1920s and has made a comeback today. This is a modern and soft hair choice that is not only popular with the real vintage lovers anymore. Nowadays, a modern twist, such as a fade, is often added to this hairstyle, making it a real comeback. It's a stylish, edgy option for today's gentleman.
With the Comb over Fade your hair is shorter on the sides and a lot longer on your head itself. The sides are often shaved with a fade that makes it softly overflow until it hits a parting. With this parting, the long hair on your head starts and you wear it subtly to one side or back.
Men who want to see their hair cut short often enjoy the Comb over Fade. If your face is round or circular, this short cut will make it look less round. This short haircut is suitable if you have thick hair as the Comb over Fade makes your hair appear thinner. So if your hair is already thin, this is not the best hairstyle for you. Then choose the Buzz Cut or the Caesar Cut, for example.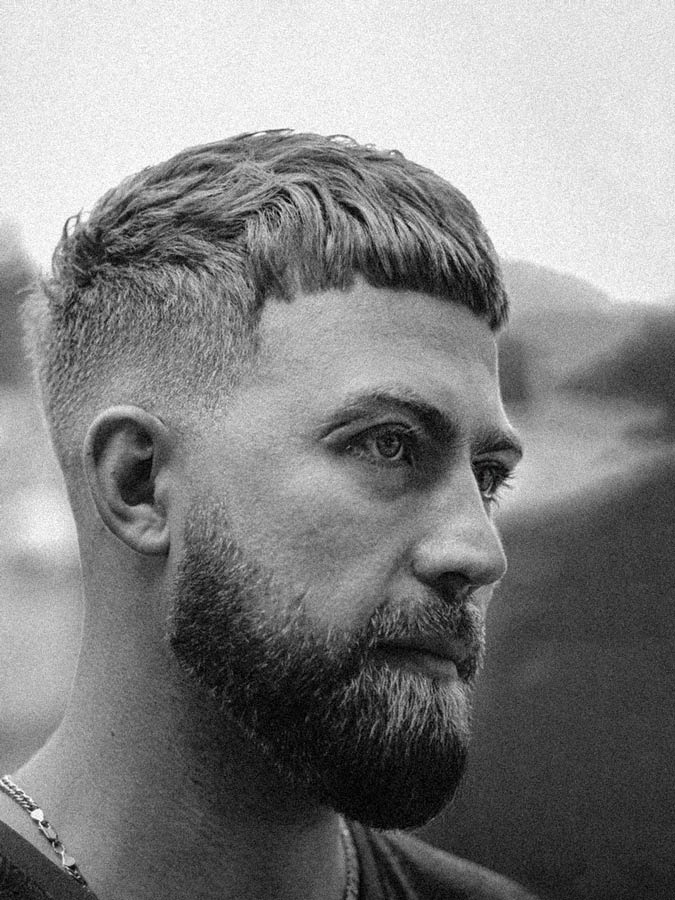 Caesar Cut
Naturally, this hairstyle is inspired by, yes, Julius Caesar. This is a hair style that combines classic and modern in a unique way. This short haircut stands out because of the straight line it creates on your forehead.
When you want to have this hairstyle, you have to make sure to comb your hair forward. Just make sure it's not too long or it will fall too far on your forehead. At the front, a fairly straight line forms on your forehead, of course it does not have to be perfectly tight. That way you keep it a bit playful.
Here they are, our favorite short hair styles for men who want it short!
Do you have any questions? Reassure them, that's what we're here for. You happy, we happy! You know where to find us.
Have fun!
Your friends, The Alpha Men