Growing a beard, bringing it into perfect condition and keeping it is completely up to date again! Just look around you and it is becoming more and more noticeable: men with long full beards or with a robust shadow on the face.
If you have left a fully grown beard, you may run into the problem that you do not like the original color, that it just does not match the shade of your haircut or that you prefer to see the beard 1 or 2 shades darker. An original beard color can be just a little too light in shade.
There are also, for example, men who do not like a gray color and prefer to mask this with beard paint . Many gentlemen now see coloring their beard as an addition to their total beard care. And, partly because of this, you get exactly that pronounced appearance that you want.
After reading this article, you too will know exactly how to dye your beard the right way!
Bear(d) with us.

Step-by-step beard dyeing plan, how do I start?
You're out. It's high time to tackle the design of your beard. Because: the color deviates too much from the original shade or it should contrast in such a stylish way that the haircut and the design of your beard significantly reinforce each other.
However, it is much more common to make the color of the beard just 2 shades darker so that it better matches the color of the haircut and eyebrows. It is also possible that you just want to experiment with beard dye. After all, it can all be a little less beaten, more exclusive and more exciting in cut!
Can you just dye all beards? When you take the step to dye your beard , make sure that it is longer than 2.5 centimeters. Longer beard hairs have more grip and therefore help to retain the color better. Can you dye a shorter goatee? That can be difficult to paint properly. The result is less visible.


Choose the right color
As a rule, you choose a color that is as close as possible to your natural beard color. If you have dark hair, opt for a deep brown beard dye instead of black to avoid an artificial harsh look. When you paint the beard (deep) black, it can make your face look very pale.
If you have lighter hair, find a beard dye that best matches your own beard color.
Some beard dye - just like hair dye - can cause an allergic reaction. To test whether the beard dye you have chosen causes red spots or (burning) itching, you can apply a drop of beard dye somewhere on the inside of your arm and let it sit for 48 hours.
This is necessary because if the paint in question causes a (severe) allergic reaction, you may even have to go (immediately) to the GP. So first by means of a drop, you will survive that, testing and waiting 48 hours for any side effects. No reaction? Jolly good! Then you can safely use the beard dye.
Still a reaction? Annoying! In this case, choose a hypoallergenic beard dye on a natural basis. And then again: always test a drop somewhere in an inconspicuous place on the arm (or leg) before using the paint. Safety first!
What is the best preparation for beard dyeing?

Have you brought your ideal beard dye into your home? Top! Then you can now start preparing.
We recommend that you do not wash your beard beforehand. If you don't clean your beard and it is a bit greasy, the beard dye will adhere better.
The naturally present beard oils also ensure thatless damage is caused to the beard hairs and the skin underneath by dyeing. You can, however, ensure that your beard is well combed or brushed. Then it is cleared of dust and leftovers.
It is also very wise to smear a layer of Vaseline around the beard. This protects the skin around it so that any paint does not adhere to it.
How to dye your beard step by step
Step 1: This is what you need (if not included with the beard dye)
Rubber gloves to protect your hands
A color brush to apply the beard dye
A mixing bowl to put the beard dye in
Paper towels, for example kitchen roll or tissues
Wear an old shirt. Bet you're going to stain?
An old towel
Step 2: Follow the instructions on the package
Each brand of beard dye may have different instructions and processing times. That is why it is important to check whether you are working in a structured and safe way so that you achieve the best result.
Step 3: Mix and paint
A beard dye package often contains 2 tubes. One contains the base color and the other is a color developer. Have you put an amount from both tubes in the mixing bowl, mixed it together and does it still look a bit light compared to the example on the packaging? Don't worry, after a minute the mixture will start to darken.
Step 4: Apply the beard dye to your beard
Grab the brush or included applicator and take a small amount of beard dye from the mixing bowl. Accurately apply the paint in your beard by moving the brush back and forth. Try to avoid your facial skin as much as possible.
Just think about the Vaseline around the beard! Make sure you take your time. Dyeing the beard is really a painstaking job. For example, if the paint does get on your skin, it can stain and you naturally want to prevent that.
Is your beard completely covered with beard dye? Then it's time to give your beard some rest so that the paint can soak in.
Step 5: Check the color
Have you followed the instructions on the packaging and adhered to the processing time? Then see if you are satisfied. Remove a little paint by dabbing with a paper towel and see how the color of your beard hair looks.
If it is still a little too light, apply a small amount of new paint to the spot where you just removed it and let it soak in for a while. Don't do this for too long, because before you know it the result will be darker than you would like. If the beard is still too dark , it is best to wash it immediately with beard shampoo so that the hair can become (slightly) lighter in shade.
Remember, there are only Happy Accidents when painting.
Step 6: Rinse
If your color is to your liking, you can rinse out the beard dye. Run your beard under lukewarm water and keep rinsing until no more dye comes out. Is everything out? Then pat your beard dry with a towel.


Care after dyeing your beard
For color retention, you should not wash your freshly colored beard for 2 days. After this period that is of course possible and you choose a beard shampoo that is able to keep the applied color beautiful for longer. In addition, a good beard conditioner and beard oil can help your beard to keep the color as it is. In addition to preserving the color, these products also work caring and nourishing!
Of course we Alpha's have a wide range of beard shampoos and conditioners with which you can pamper your new design so that it remains in excellent condition.
Satisfied with the result after a look in the mirror and do you feel in command again? Great, then your beard can go for weeks after this invigorating coloring session!
Oh yes, before we forget. It's such a meticulous job the first time, but before you know it you'll be the Picasso among the beard artists.
Happy Painting!


Looking for beard dye?
We Alpha's have selected 3 top brands of beard dye with various colors for you:
With this Beardburys beard paint you can give your beard a natural color in just 5 minutes. The beard dye is designed to optimize your own natural beard color. The paint is enriched with vitamin E and free of parabens and ammonia. This ensures that your beard does not become brittle.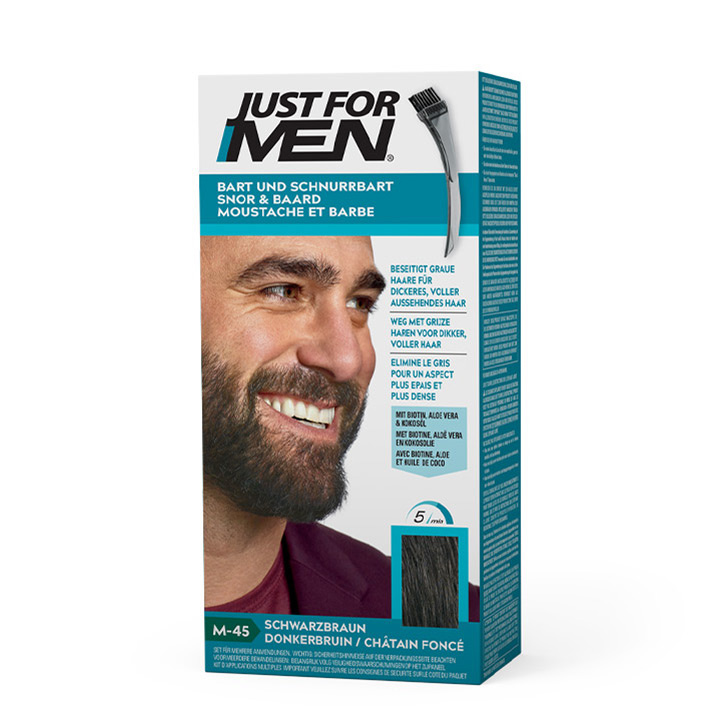 Just For Men works as easy as washing your hair and the non-drip formula works within 5 minutes. The color lasts up to 6 works until the gray hairs reappear. The Beard Paint is easy to apply using a specially developed brush. The formula penetrates deep into the hard, coarse beard hairs with the help of biotin, aloe and coconut oil, which moisturize and strengthen the hair.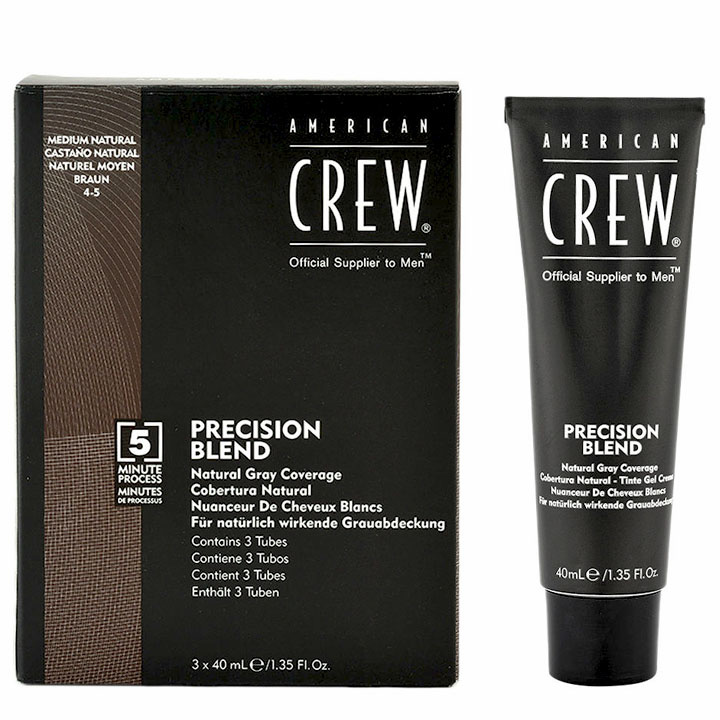 American Crew - Precision Blend Beard Dye
American Crew Precision Blend Hair & Beard Dye gives the hair a natural color. The Precision Blend can color (grey) hair easily, quickly and effectively. This color rinse is easy to apply and colors the hair within 5 minutes.