When do you use a comb ? Which comb do you need for which hairstyle? And how do you know which comb you need for your type of hair? You probably just pick up a random comb without thinking about it. Yet you cannot shave all combs with the same comb. Each
comb has its own function, so in some cases you can use that one comb better than the other. We are going to explain it all to you in this combing guide.


What is the difference between a comb and a brush?
Many men think that a comb and a brush can do much the same thing for your hair. This is not the case. Combs and brushes are two very different styling tools , suitable for different purposes. For example, a comb is mainly used to detangle wet hair and to distribute styling products such as a pomade well over your hair. With a comb you have a lot of control when styling, especially with short to medium length hair. Brushes, on the other hand, are usually used with dry hair, or during blow-drying. A brush is ideal for distributing sebum and oils over your hair and removing dirt from your hair. We recommend a brush, especially for longer hair. Do you want to know more about brushes? In this brush guide we explain it in great detail.
 
The types of combs
There are so many different combs out there that we can understand that choosing the right comb is difficult. Which comb you need depends mainly on the type of hair you have and what result you want to achieve with it.


Styling comb
The styling comb , also known as a hairdresser's comb, cutting comb or combi comb, is the most used, both by the common man and by the hairstylist! The cutting comb has two parts, namely a part with fine teeth and a part with wide teeth. This makes it very versatile. You can use the cutting comb to cut your hair, but also to detangle and style hair.
Length: All hair lengths
Ideal for: Detangling, styling and assisting with cutting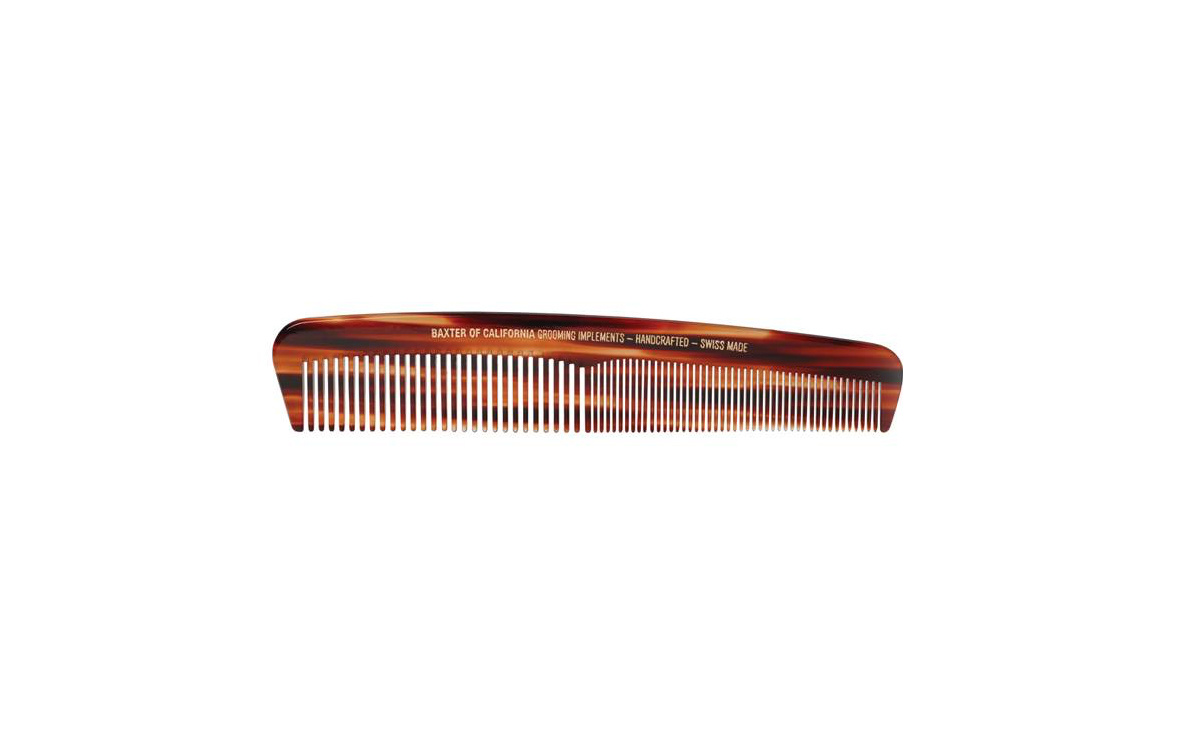 Pointed comb
The pointed comb, also known as a needle comb, can be recognized by its average teeth and thin end, which is usually made of metal or plastic. The pointed comb offers many combing and styling options and will certainly be a solution if you have long hair. The pointed comb makes it easier to distribute your hair over your head so that you can easily reach it with tools such as a hair straightener or curling iron. This comb is also ideal if you want to create a separation in your hair, as you do with a comb-over fade.  
Length: Medium to long hair
Ideal for: Styling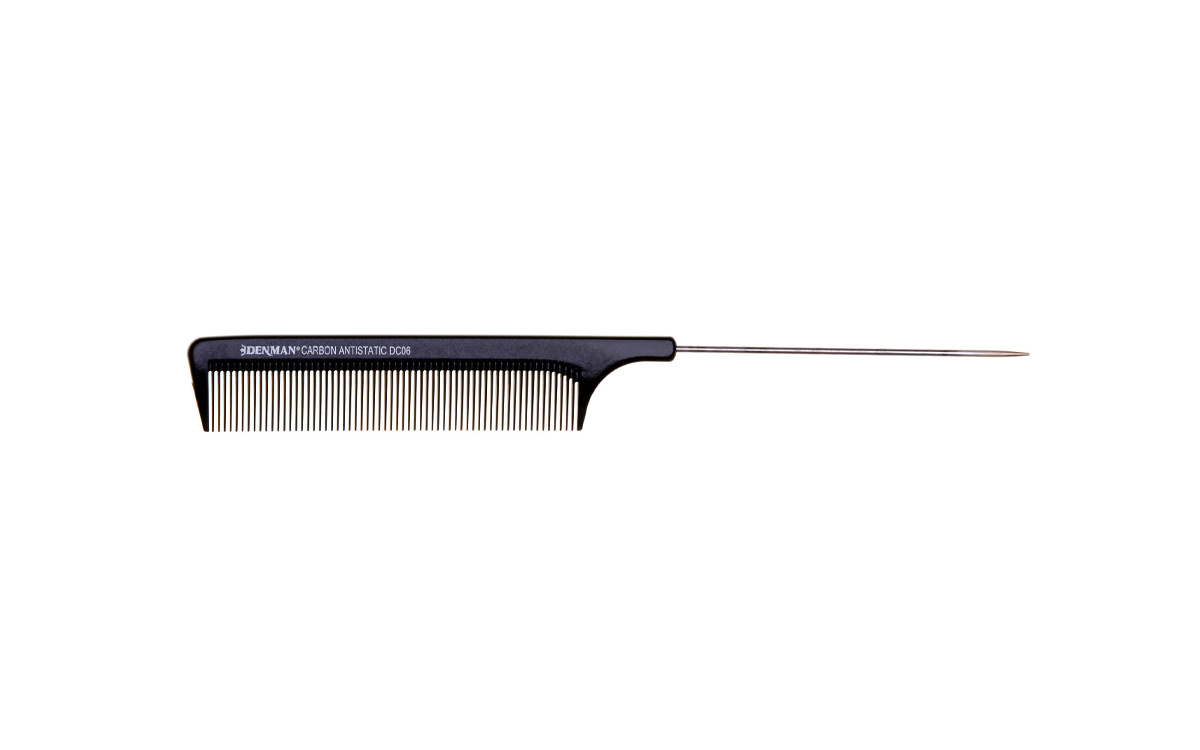 Pocket comb
The pocket comb; also known as a pocket comb , a very handy tool to take with you on the go! You can recognize the pocket comb by its short size and often fine teeth. Are you away from home and do you still want to be able to restyle every now and then during the day? Then a pocket comb is a smart choice for you. 
Length: Short hair
Ideal for: Styling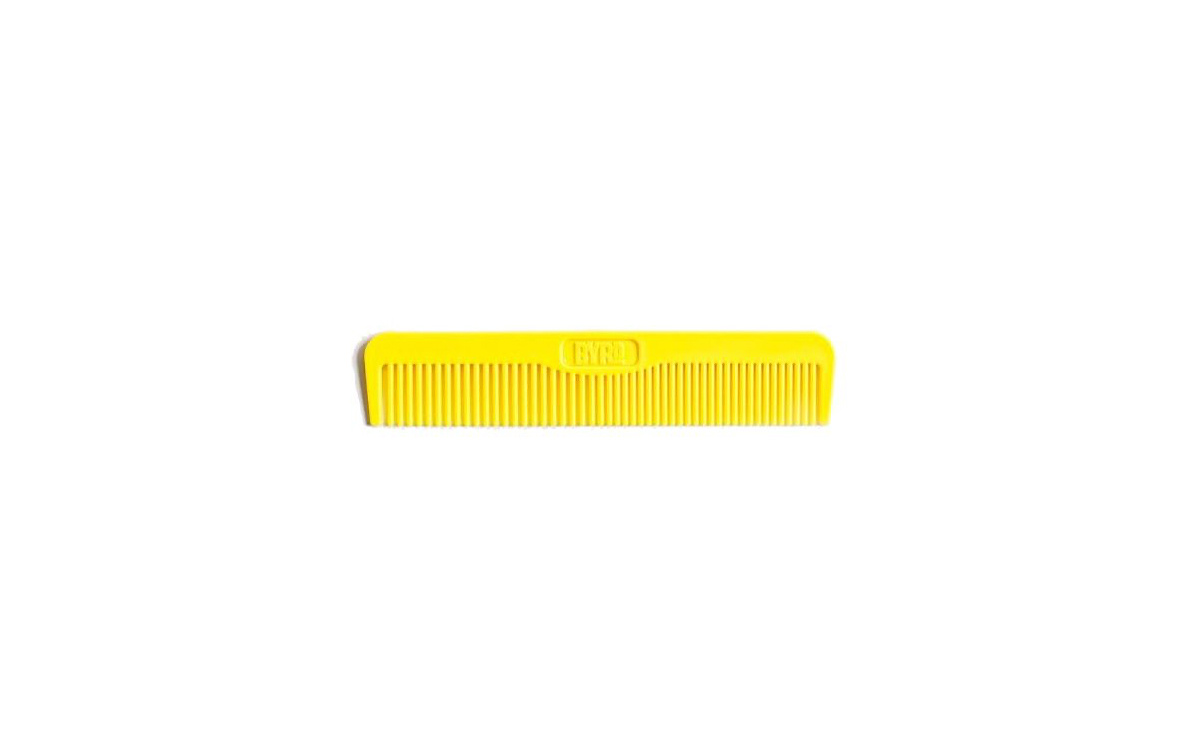 Afro Kam
Afro combs are widely used for frizzy hair and to add volume to the hair. An Afro comb , also called an Afro Pick, is a large comb or pick with large, wide teeth that can get into tightly curled hair and lift it up and out of the head without destroying the curl. This type of comb is often used to create, style and maintain an afro hairstyle.  
Length: Short to medium frizzy hair
Ideal for: Styling and creating volume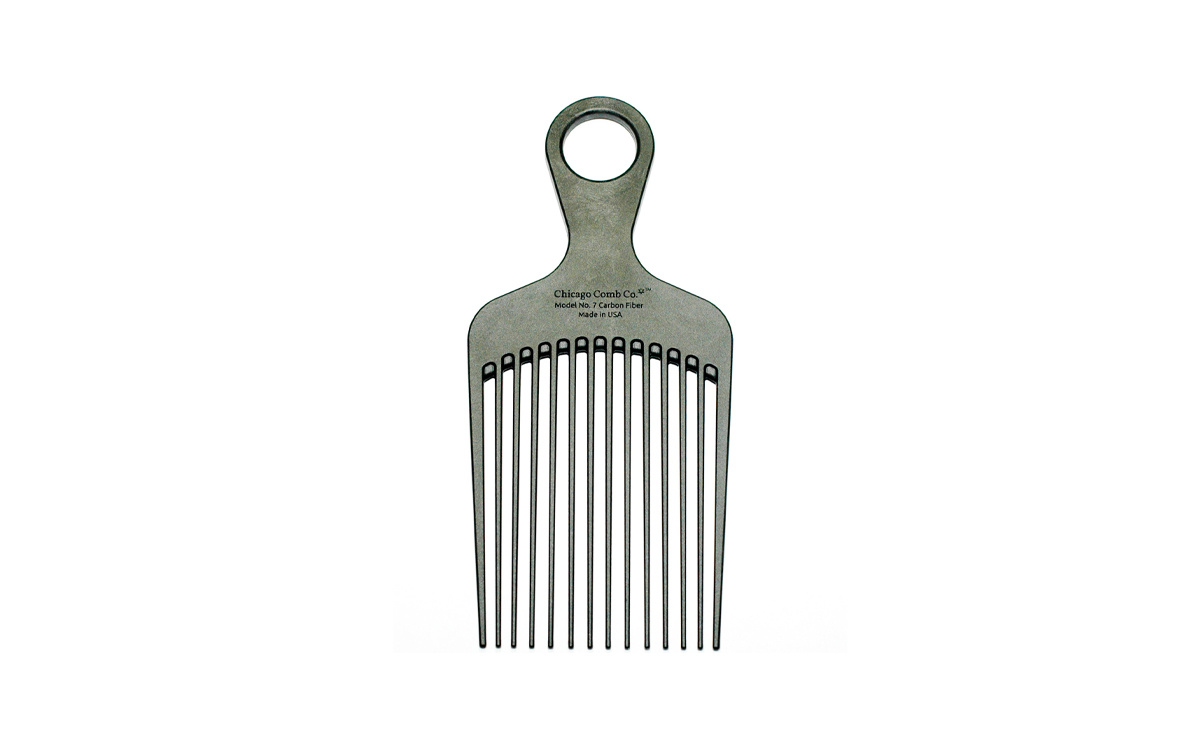 Battle laying comb
The slamming comb is the same height at every point, but the teeth vary, so you can add extra volume to your hair. The ideal length of the comb ensures that you have achieved your vertical stroke for extra volume or classic haircut in no time!  
Length: All hair lengths
Ideal for: Striking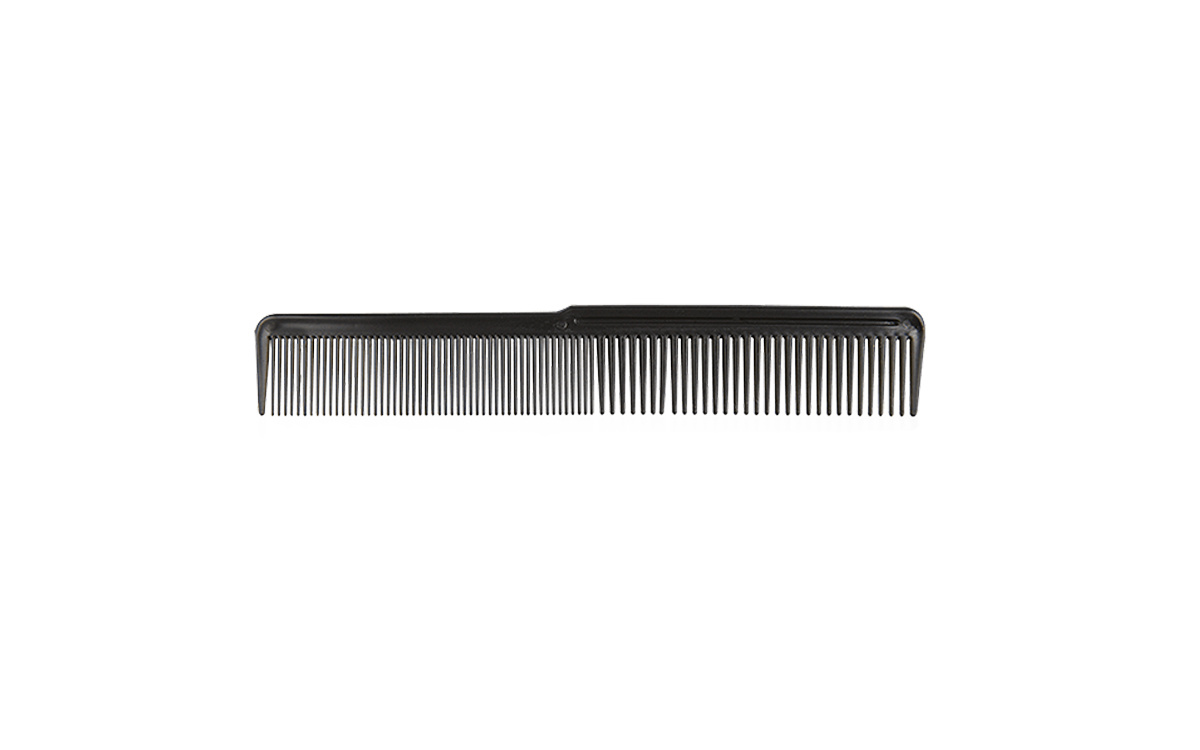 Wide comb
Finally, the wide tooth comb , also known as a strand comb. This handleless comb has very wide teeth, which makes it ideal for almost any type of hair. In addition to detangling, you can also use this comb perfectly if you want to style your hair a bit more casually / more naturally. The coarse teeth provide a less polished look.  
Length: Medium to long hair
Ideal for: Detangling and styling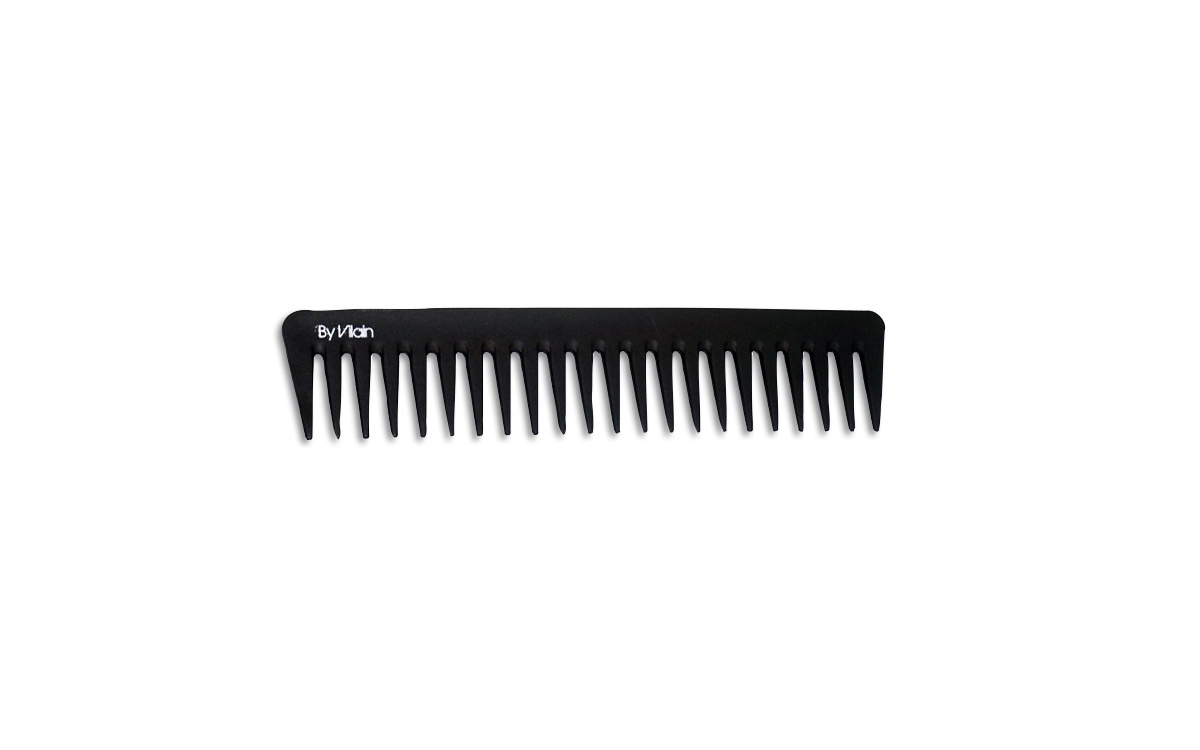 Material types
Each comb is made from a type of material that best suits the application of the comb. Below we explain the advantages per material for you.


Combs of wood
A wooden comb massages your scalp and ensures that the naturally present oils take care of your hair. Woods that are often used in combs are sandalwood, cherry wood and bamboo.
Advantages:
Wooden combs are gentle on your hair

Wooden combs nourish your hair in a natural way

Wooden combs ensure a healthy scalp (increases blood circulation)

Wooden combs prevent tangles and breakage

Wooden combs are suitable for all hair types
 
Carbon combs
Combs made of carbon are heat resistant. You can therefore safely use a carbon comb in combination with a hair dryer or other hot hair styling tools. Carbon combs are also very strong. Do you have thick or messy hair? No problem at all for a comb made of carbon!
Advantages:
Carbon combs are heat resistant

Carbon combs are strong combs, also suitable for thick and messy hair

Carbon combs prevent static electricity in the hair

Carbon combs are lightweight combs

Carbon combs are not flexible, ideal for holding evenly during a haircut


Combs of metal
Metal combs prevent annoying friction in your hair, so it won't get caught. The material is durable and combs made of metal have that beautiful vintage look! Metal combs are hard, so for sensitive scalps it would be better to choose a comb made of a different material.
Advantages:
Metal combs are very sturdy

Metal combs do not get stuck like plastic combs do

Metal combs are generally beneficial

Metal combs are heavy, so they slide easily through your hair

Metal combs do not cause an allergic reaction


Plastic/cellulose acetate combs
A plastic comb is often seen as cheap and less efficient, as their teeth can break quickly and leave ridges on the comb during the manufacturing process. This makes a plastic comb more likely to get stuck in your hair.

Of course there are also plastic combs of very good quality. For this quality you end up with a comb made of cellulose acetate. These combs are usually handmade and professionally finished for years of combing pleasure!
Advantages:
Cellulose acetate combs are strong

Cellulose acetate combs are easy to clean

Cellulose acetate combs are also suitable for facial hair

Cellulose acetate combs are free from harmful substances

Cellulose acetate combs are durable


Combs of horn
A comb made of horn - buffalo horn for example - is heavy in weight and is very sturdy. Horn combs are made of natural material, so the purchase price is slightly higher than with another type of comb. Still, choosing a horn comb is completely worth your money!

A horn comb does not generate static electricity. In addition, a horn comb will not damage your scalp. The moderate hardness of a horn comb will massage your scalp to stimulate your scalp's capillaries. This makes them thicker, increases blood circulation and provides the brain mechanism with more nutrition and oxygen. This will help you to stimulate hair growth and prevent hair loss, among other things!

Advantages: 
Horn combs prevent static electricity
Horn combs stimulate blood circulation
Horn combs are rich in amino acids and keratin
Horn combs are 100% natural
Horn combs are of high quality and last a very long time
 
Which comb are you going to order?
Were we able to help you make a choice in type and material? Always remember the following; do you mainly use the comb for styling? Then choose a comb with fine teeth. A comb with coarse teeth, on the other hand, is best used if you want to detangle your hair.