Perhaps the most frequently asked product question at The Alpha Men. Not with which clay you can bake the best pots, but which product is best to put in your hair. It's personal, but then again it's not. The Hanz De Fuko Claymation andBluMaan Cavalier Heavy Clay are very similar. There are therefore few clays on the market that can compete with these two. With this one we make it nice and difficult for ourselves and compare these two top products with each other.
Hanz De Fuko is a phenomenon as a brand. The San Francisco brand strives for self-expression and creative innovation with their products and has become one of the most renowned product lines in the world. The products are even favored by many famous people. David Beckham owes his tough looks to the Hanz De Fuko Quicksand and Hugh Jackman known from movies like X-Men always uses the Claymation. For example, there is a list of famous people who all owe their looks to the products of Hanz De Fuko . In addition to the fact that the products work so well, according to Hanz De Fuko, you also do not have to worry about the health of your hair and scalp. The products all contain natural ingredients.
Then there was a well-known Youtuber who wanted a line of products that had something for everyone. A product that helps every man to find his own style with the power of a hairstyle. According to BluMaan , this is only possible when your hair is healthy. Blumaan therefore has products developed that are healthy for your hair. Cavalier Clay is one such product that many men have found their style with. A product that can compete with the legendary Claymation.


Claymation vs Cavalier Clay
Both products are quite similar. They both contain ingredients that are not bad for your hair and do the same thing. They both have a matte finish and a strong hold. The Cavalier Clay is clearly the underdog in this case given Hanz De Fuko's reputation. Time to be surprised.

Odor
For some it is completely irrelevant and for others it can be the deciding factor. The smell of the product. Now it is true that in general a clay often has less odor than, for example, a pomade. Except from Layrite the Layrite Cement Clay (it's not actually clay). The same goes for these two products. The Claymation actually doesn't smell at all. The Cavalier clay, on the other hand, smells slightly of vanilla. A nice smell. Is fragrance in your hair really important to you? Then Cavalier Clay might be more your thing.


Applying the clay
A clay is often difficult to apply in the hair. You often have to rub well and it often feels stiff when you go through the hair with the product. 'Who puts clay in their hair,' my grandmother once called out. It also sounds pretty crazy. At least with these two clays it is easy. They both feel a little oily which makes it pleasant to apply. The Cavalier clay needs just a little more work to get into your hair. The Claymation feels just a bit more oily but contains more water and can be distributed effortlessly in the hair. This does the Claymation better.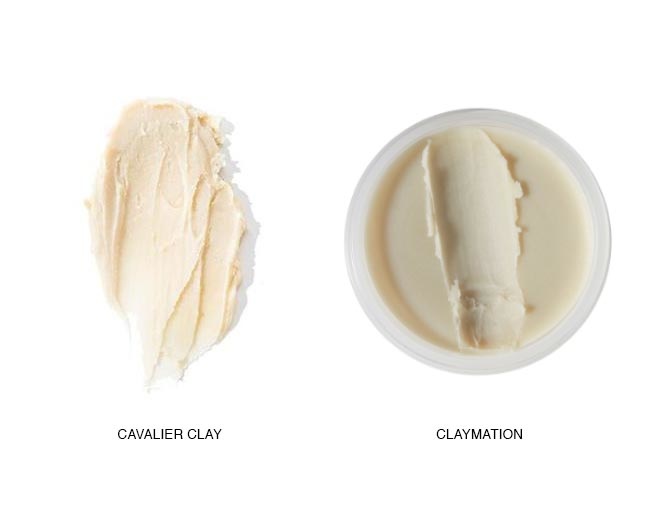 Finish
Both products should do the same thing. The Claymation and the Cavalier Clay say on their packaging that they have a matte and natural finish. Luckily they do. The difference is negligible. Nevertheless, we think that the Blumaan product looks a bit more natural in the hair. Just a little more matte.


Hold
For many people the most important thing about a hair product. Both clays have a strong hold. Both will not disappoint you in holding that beautiful key on your head. The Claymation does its job well. It has a strong hold and keeps your hair in shape all day. Still, the Cavalier Clay takes the cake here. We are pleasantly surprised. The Cavalier Clay gives you complete control over your hair. It gives a lot of texture and your hair stays in place. But in addition to that hold, you can also simply remodel your hair. Something the Claymation does just a little less well.


Washing out the Claymation and Cavalier Clay
Washing these two products out of the hair is fairly easy. I say reasonable because you really need a shampoo to get it completely out of your hair. With only water, your hair can still feel slightly greasy afterwards. You will feel this most with the Cavalier Clay. This is not surprising since the Claymation contains just a little more water. The Claymation dissolves a little easier. The difference is small but here the Claymation wins.


And the winner is… BluMaan!
Who would have thought that? We were really surprised by the Cavalier Clay. He's just a little better on many points. The difference is small and of course there is no loser because the Claymation remains a great product that does everything for many men that they expect from a hair product. Of course this is our judgment and it may have a very different outcome for other people. Everyone has different hair. It's still something personal.


Would you like to compare both products yourself? Or have we been the deciding factor for you to buy one of these toppers? Feel free to shop them.
Do you have a different opinion? Let me know! We are curious.