Top 10

best natural deodorant for men who want to smell good

Many men use the usual aerosol cans with that pungent deodorant . Mixed with fresh/old sweat it can quickly produce an all suffocating melange of sweet, bmic acid and nostril shattering air.

Not for everyone, but you may recognize this in yourself or a colleague who types every day, technically, in a sweat. stress. Often a cause of the better perspiration work. What you regularly see is that the men lavishly empty the spray can under the dripping arms in between.

Many still go for the ax with these types of low-threshold products. Units with which you actually spray the sweat glands under the armpit. Or lacquer. That is of course also possible. Then you might as well apply a roll of that gray shiny duct tape to the armpits. However, less harmful substances will probably flow into the skin than you see with the home, garden and kitchen deodorants. Full of parabens, aluminum and other very harmful substances.


What is in the standard supermarket deodorants?
You don't know any better. Traditionally you already use the standard deos. In your sports bag you have 1 or 2 in stock anyway and the same in the bathroom. You are also told in countless commercials that this TOP deodorant works 24/7.
Why should you also delve into it yourself because applying it under the armpits has been in your system for years. However: with this letter we hope to convince you of the fact that you may have to stop using those questionable deodorants.
Friends: a body MUST sweat. Because then you dispose of the waste. If you seal the armpits, natural drainage can no longer take place and that is not good for health. Let's list a number of important and harmful substances that usually occur in an average deodorant:
Aluminium: is also absorbed through the skin and enters your system where it can cause DNA damage. Bones and the nervous system can also be affected if the accumulated amount is too large. There is even a link with the presence of aluminum in the body and Alzheimer's.
Triclosan: kill not only the bad bacteria that cause the bad smell but also the good bacteria in our body. It can also seriously mess up the hormone system.
Parabens: also called synthetic preservatives. Parabens are also found in many personal care products. Not all parabens are bad by definition, but there are harmful variants in between. Not proven, but the components in parabens could be harmful to the organs and affect the hormone balance. All & all, it can therefore do no harm if you avoid these preservatives as much as possible.
S(l)ES: in full Sodium Lauryl Sulfate. When you pronounce it, it already has a sinister tone. This stuff degreases and dries out the skin. You can also get itchy and the skin can flake. Can you get back to work with other spreads to solve these side effects .
In a previous blog we already wrote about detoxing from standard deodorants. We will go into detail about the step from the average deodorants to the products with natural ingredients that your body responds to much better.

Why use a natural deodorant?
Of course we do not commit you to anything. Of course, you have to decide for yourself whether you will continue to use your current deodorants in the same way. But we do want to motivate you to think about trying a natural deodorant .
It's a mindset. But we now know from the experience of our friends who regularly order products from us that once you put a natural, organic and artisanal product on the armpits, there is no going back.
Another tip from us: shave regularly under the arms. Bunches of hair retain the sweat smell longer. 
Oh yes, another tip: Eat and live healthy. Bump, but it's true. Lots of alcohol and meals provided by Dr. Oetkers and other Wagners are recommended, we would avoid as much as possible.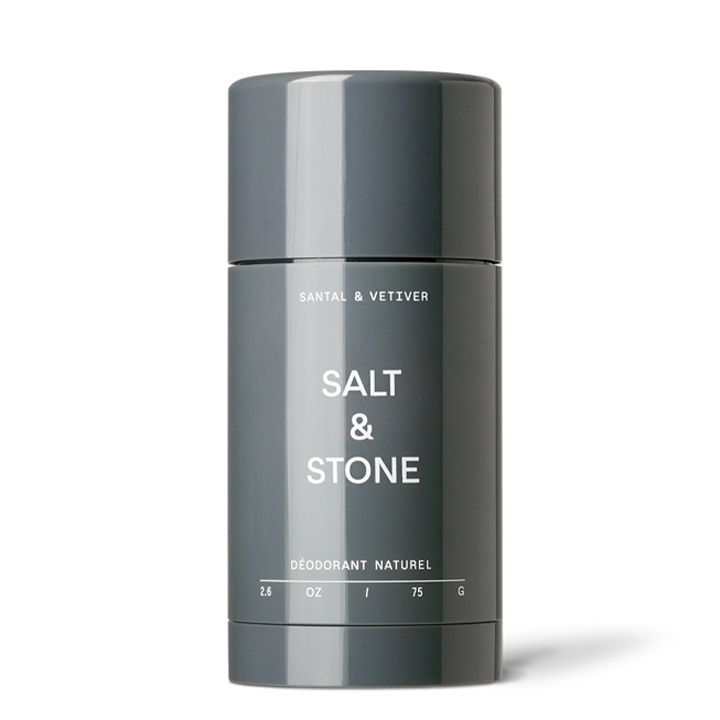 This 100% organic and vegan deodorant from Salt & Stone is designed for all types of skin. The hyralonic acid in this deodorant hydrates and cares for the skin. The deodorant does not contain aluminum, alcohol, parabens, baking soda, dyes and synthetic fragrances, prevents inflammation and helps to soothe the skin. This deodorant also leaves no stains, neutralizes bad body odors and ensures that you smell fresh all day long. The deodorant has the phenomenal scent of vetiver and sandalwood.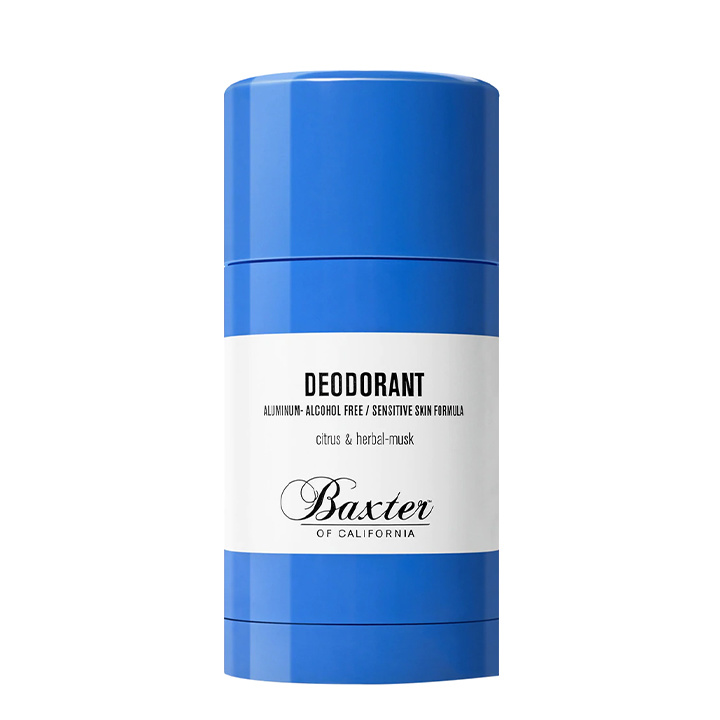 The premium Deodorant Stick from Baxter of California . This is a masterpiece without aluminum, baking powder, alcohol, and parabens. This Baxter offers optimal care for sensitive skin and protection of your armpits to prevent unpleasant odors. The Deodorant Stick has a fresh scent of Citrus and spicy Musk. Due to the natural ingredients, this Deodorant Stick does not leave stains in your clothes.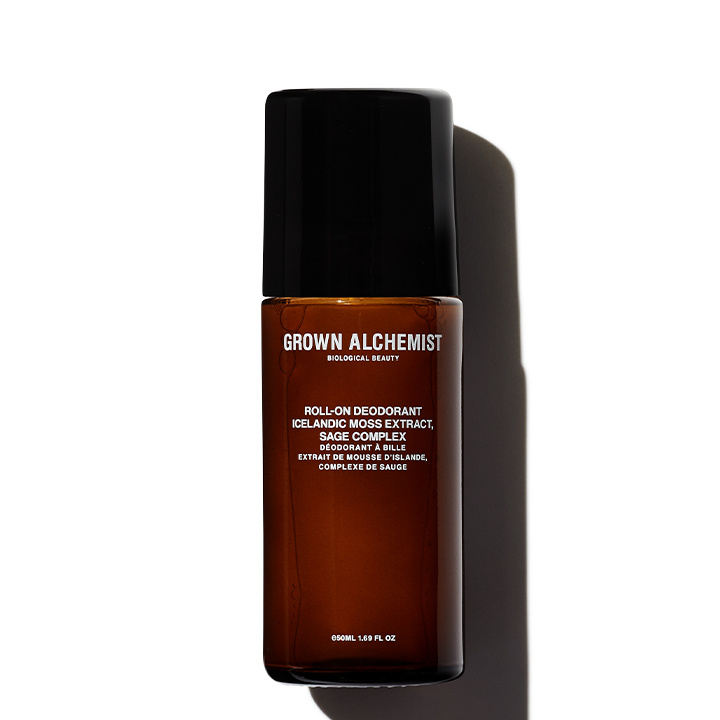 This vegan roll-on deodorant from Grown Alchemist , without harmful chemical components, prevents the smell of sweat under the armpits and provides a fresh aroma. The animal-free deodorant has an aluminum-free plant-based formula, which makes the deodorant also suitable for sensitive skin. The deodorant is rich in natural actives that absorb sweat, eliminate odor and leave a fresh scent. Partly due to the presence of coumarins and triglycerides from Tamanu seed oil, this superior deodorant ensures an optimal microbial balance. The soft scents of sandalwood, orange and Icelandic moss make it a very exclusive deodorant.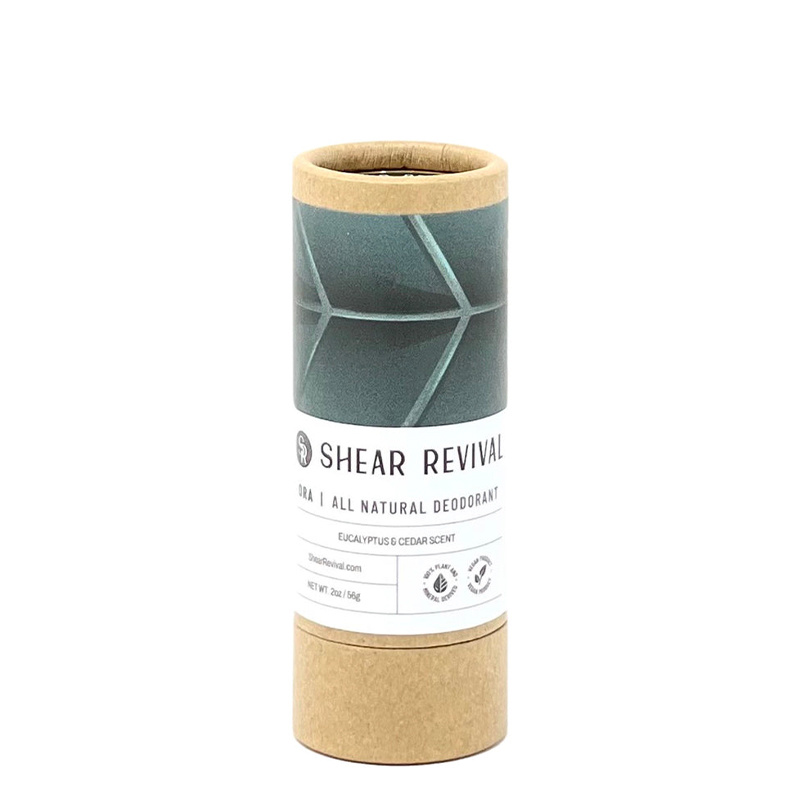 The Shear Revival Ora All Natural Deodorant has been specially developed for sensitive skin. Traditional and 'handmade' without baking powder and other artificial additives. With this rich deodorant you smell fresh all day long without clogging the pores.
If you're looking for a top quality vegan deodorant, you've found it with this one. Active substances such as Magnesium Hydroxide, Cocoa butter and Kaolin clay make this Shear Revival Deo one of a kind . Add to that the exclusive scents of Eucalyptus, Cedar wood & the essential oils with lime and you won't want anything else.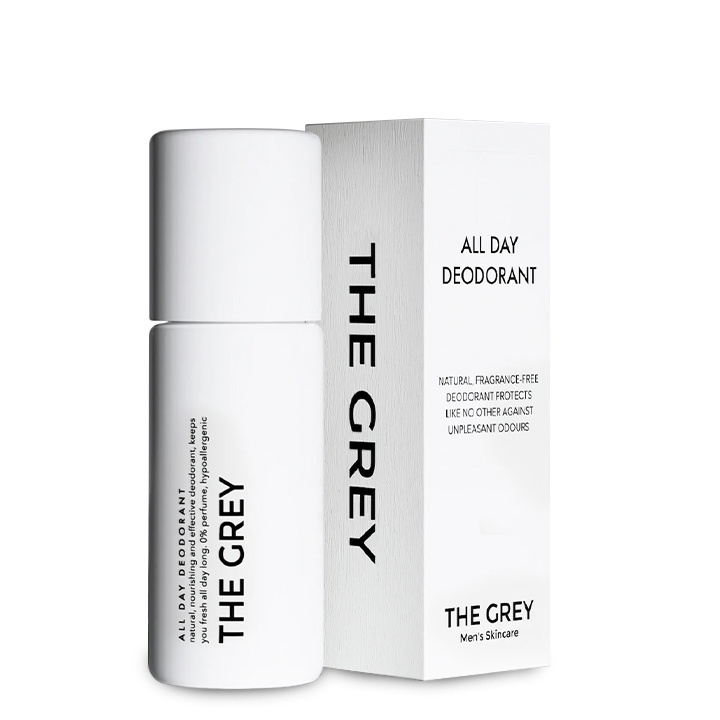 This natural, fragrance-free deodorant from The Gray protects you like no other against unwanted odors all day long. The unique natural formula fights the bacteria that can cause an unpleasant sweat odor. This makes you feel fresh all day long and you can confidently go through the day.
The deodorant is extremely mild for your skin and free of perfume, aluminum chlorohydrate, baking soda, mineral oils, parabens, dyes, sulfates, SLS, SLES, DEA, alcohol and nanotechnology. This makes the deodorant suitable for every skin. Furthermore, deodorant is free from animal testing.
A monument of a DEO.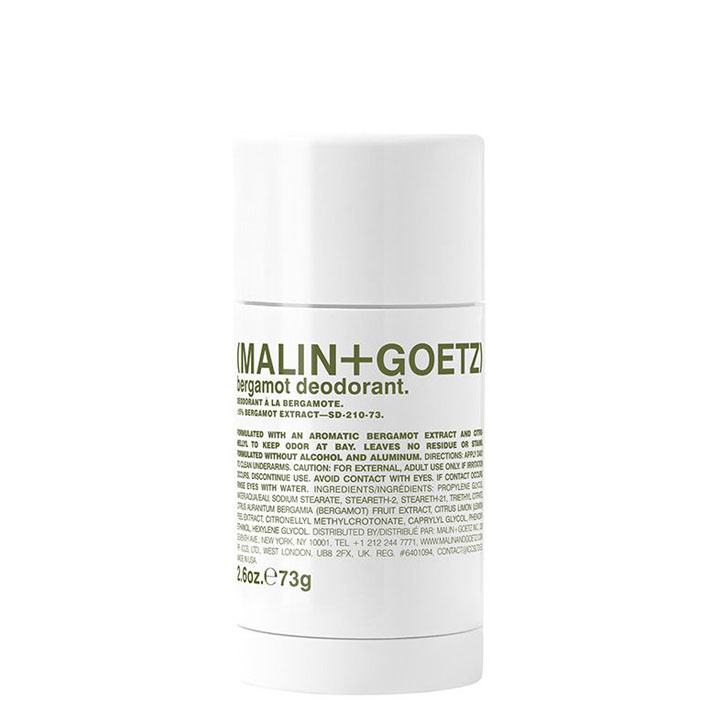 The iconic Malin+Goetz . With ditto deodorant. The pinnacle. This ultra-natural deodorant provides clean and effective underarm odor protection without the use of aluminum, alcohol, baking soda, parabens or synthetic fragrances. Natural bergamot extract inside and probiotic enzymes to neutralize sweat odor. Cornstarch on board to absorb excess moisture. The stick glides on smoothly and without residue to keep underarms fresh all day long. Suitable for all, especially sensitive, skin types. It contains a natural and heavenly scent of bergamot, fruit and citrus.
This unique deodorant from SA.AL&CO is 100% natural, certified organic and therefore free of parabens, baking powder or aluminum. It is a vegan deodorant made from proven powerful ingredients that are gentle on the thin skin under the armpit. Suitable for a long day at the office or a good workout session! The fresh and subtle scent of citrus makes this deodorant suitable for the modern man. Suitable for any occasion.
Feel free to take this deodorant with you wherever you go. The sturdy bottle of brushed aluminum can take a beating.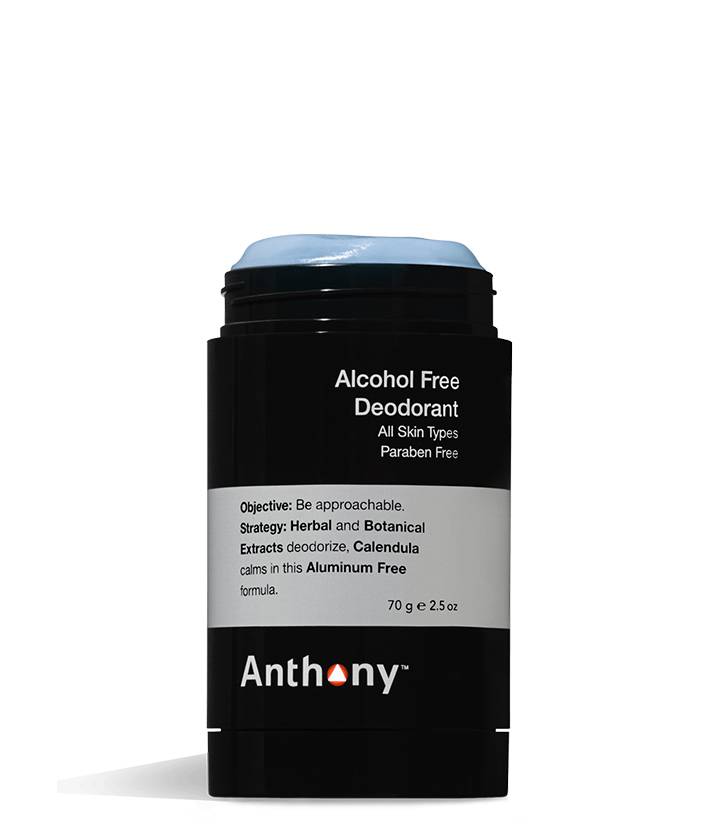 The Alcohol, Baking Soda and Aluminium-free Deodorant Stick from Anthony , with a refreshing scent that protects throughout the day. The Deodorant has a calming effect on the skin and is even suitable for the most sensitive skin types. Herbal and botanical extracts, including basil, ylang-ylang, grapefruit, orange and wintergreen, ensure that unpleasant odors do not stand a chance. As icing on the cake, wild mint cools the sensitive armpit skin. The scent is refreshing with a touch of citrus.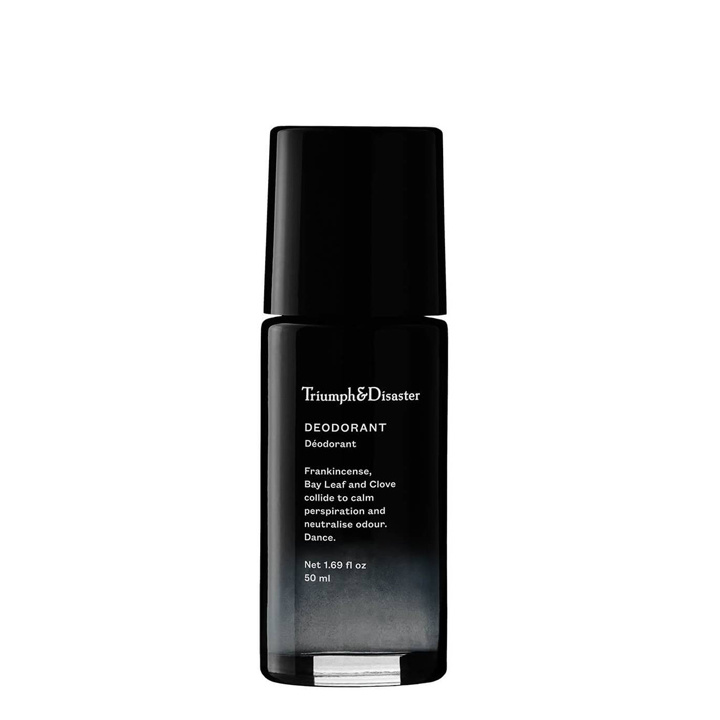 A fine deodorant made from natural and organic ingredients helps you defeat the bacteria that produce the unpleasant sweat odor and convert it into an exotic, vibrant scent.
This Triumph & Disaster attacks the odor without stopping the body's natural excretion or heating system. The ingredients help reduce the bacteria on our skin. But only the bacteria that cause odor.
Active components such as Manuka, Aloe Vera and Kawakawa help to calm perspiration and neutralize body odour. Baking soda is used to counteract the acids in sweat and act as a natural balancing agent for underarm odor. The composition of this vibrant fragrance consists of a mix of frankincense, bay leaf and cloves that soothe perspiration and neutralize the odor. This Deodorant has an exotic fresh scent blend of frankincense, bay leaf and cloves that collide to soothe perspiration and neutralize odour.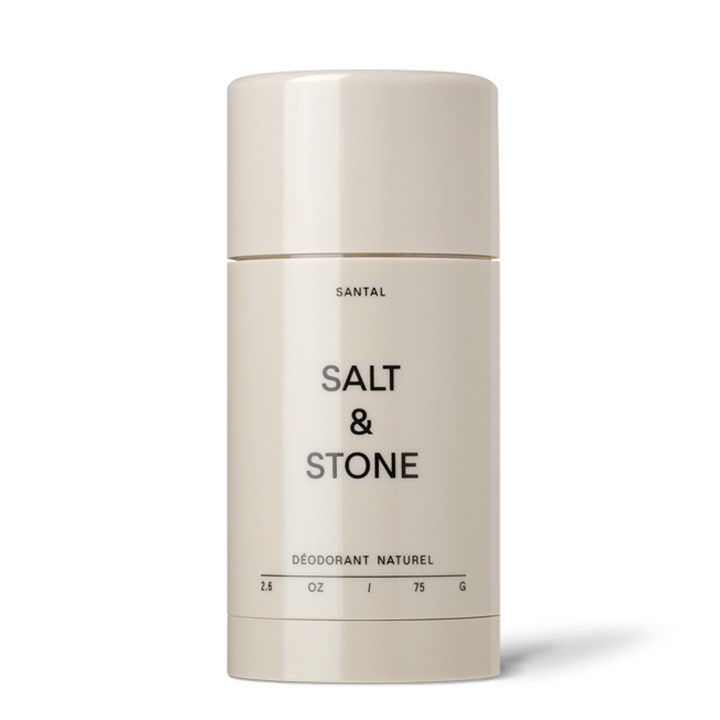 This ultimate Salt & Stone deodorant with shea butter on board offers long-lasting protection of no less than 48 hours against unpleasant odors from the armpit area. The Hyaluronic Acid hydrates the skin, while probiotics help neutralize odor. This phenomenal deo contains no aluminum, alcohol, parabens or other synthetic fragrances and dyes.
The natural scent embodies an "open fire deep in the heart of the forest". It is a combination of Australian sandalwood with a dominant cedarwood accord and is complemented by an earthy vetiver note with a background of warm amber
Good to know
The recyclable packaging is made from ocean plastic.