If something has become ingrained in our pattern of life, it is the use of deodorant . Spray cans with that intense air or bottles with sticky sealant. After all, you want to go through life as fresh as possible and without the smell of sweat. What you may not know is that those standard rollers and sprays contain special ingredients that we, meanwhile, turn our noses up at. Because if you have to detox from a deodorant that you have been using unsuspectingly for years, then the thing smells pretty bad.
Since puberty you have undoubtedly pressed, sprayed and rolled hundreds of tubes, spray cans and deodorant sticks. As you got older, it had to continue to smell like flowers under the armpits. Or to that very sharp perfume air that you and your surroundings just did not go blind from.
Maybe it's good to know what exactly you spray, lubricate or roll under the arms. That this, in the long run, is actually not such a good idea to keep doing it. It can be much more natural, effective and healthier.
Also check out our article on the ' Top 10 best natural deodorant for men '.


Why does your sweat stink?
Everyone sweats. Less so in winter, but generally transpiration takes place 24/7. Even when you sleep. Good thing too, because waste must be removed through the pores. Sweating also keeps your body temperature on target. Sweat itself does not smell. The bacteria that come to the sweat, however, do.
Because the bacteria mix with the sweat, waste products are created that the bacteria then excrete. It is precisely this chemical process that ensures that an intoxicating odor can arise in the armpit area.
The scalding under the armpits creates fats that convert sebum and sweat into butyric acid, caproic acid and mercaptans. Unfortunately, these last 3 provide that intensely penetrating odor. Incidentally, food also affects excessive sweating. Garlic for example. Of course you cannot rub your whole body with (natural) deodorant. But let's focus on the 2 scent diffusion islands: the armpits
 
Which harmful substances do you find in home, garden and kitchen deodorants?
What you will find in the most commonly sold deodorants are parabens, aluminum, alcohol, S(L)ES and, for example, triclosan. These are foreign and therefore harmful substances that acutely eliminate the odor bacteria, but can also harm your health in the long term.
For example, aluminum clogs the pores under the armpits so that you can no longer sweat, while that is a necessity for a human body. Let's name some of the properties of the above ingredients.
Aluminium: is also absorbed through the skin and ends up in your system where DNA can cause damage. Bones and the nervous system can also be affected if the accumulated amount is too large. There is even a link with the presence of aluminum in the body and Alzheimer's.

Triclosan: kill not only the bad bacteria that cause the bad smell but also the good bacteria in our body. It can also seriously mess up the hormone system.

Parabens: also called synthetic preservatives. Parabens are also found in many personal care products. Not all parabens are bad by definition, but there are harmful variants in between. Not proven, but the components in parabens could be harmful to the organs and affect the hormone balance.

S(l)ES: in full Sodium Lauryl Sulfate. This stuff degreases and dries out the skin. You can also get itchy and the skin can flake.
When you take the above to you, you should ask yourself whether you should still throw these chemical deodorants in your shopping cart. Fortunately, there are also many options with which you can tackle bad sweaty smells without all these grim ingredients.
This can be done in a natural and organic way. Although your body will have to adjust to that. The body will have to detox from all harmful substances that you have actually used all your life before the natural DEO becomes 100% effective.


What you need to know when switching to a natural deodorant?
We will immediately help you out of the dream that when you switch to a purely natural deodorant, there may not be an immediate effect. You can get lucky, of course, but in general the body has to get used to the new way of sweat management.
Most standard products ensured that you no longer perspired under the armpits due to the harmful ingredients present. By clogging pores or using overpowering perfume. Your body has become accustomed to that over the years and it will have to be phased out. So when you stop using deodorant you just start perspiring again. Develop smell. It is very good for your body that it can flow again under the arms.


How do you survive this detox perspiration phase?
It will undoubtedly take some getting used to if you stop using the usual products and you will initially sweat a lot when you are at a birthday party, wedding party or at the office without the standard sweat protection but are provided with the natural variant.
You have to go through that. The detox process takes about 2 to 4 weeks. Incidentally, the effect is different for each individual. Some bring a fresh sweaty smell and the other is not bothered by anything.
Hints
If you have the opportunity, try to freshen up under the armpits during the day. Washcloth & water for example. Perhaps there is the possibility to exercise at work? Take that opportunity. Provided there is also a shower, of course. Natural block soap at hand and clean that trade.

Apply some natural deodorant in between.
Of course we at The Alpha Men are those guys who like to smell fresh. So we abandoned the usual standard deodorant products a while ago. Purely natural or deodorants without aluminum, alcohol or parabens.
That's why we've picked out a few phenomenal deodorants for you below, which are sure that once you start using them, you'll never pull a Deo with harmful substances off the shelf again in the short term.
This 100% organic and vegan deodorant from Salt & Stone is designed for all types of skin. The hyralonic acid in this deodorant hydrates and cares for the skin. The deodorant does not contain aluminum, alcohol, parabens, baking soda, dyes and synthetic fragrances, prevents inflammation and helps to soothe the skin. This deodorant also leaves no stains, neutralizes bad body odors and ensures that you smell fresh all day long. The deodorant has the scent of sandalwood, vanilla, jasmine, tonka and amber.
Note: rubbing under the armpits once is enough. When you use too much you get a thick layer under your armpits that cannot be absorbed by your skin. As a result, the product gets into the clothing, which can eventually cause stains.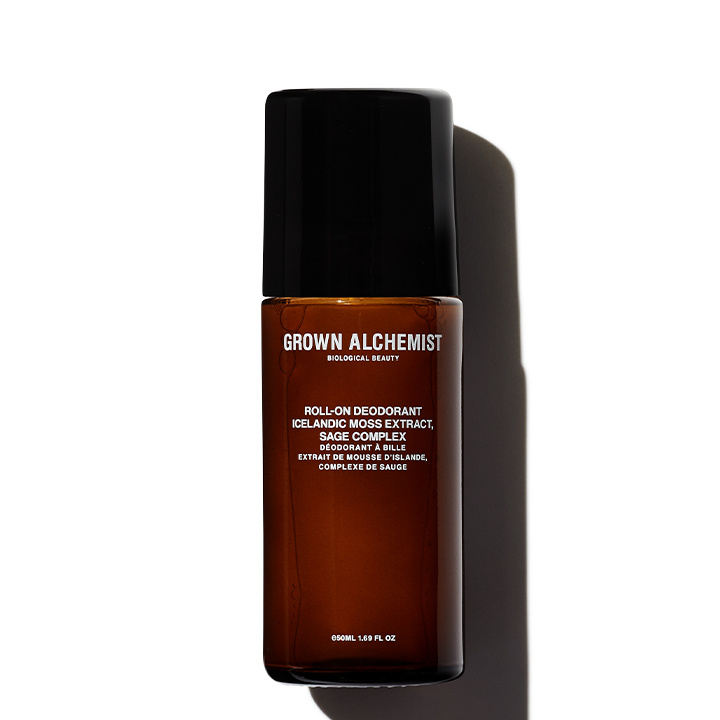 This vegan roll-on deodorant from Grown Alchemist , without harmful chemical components, prevents the smell of sweat under the armpits and provides a fresh aroma. The animal-free deodorant has an aluminum-free plant-based formula, which makes the deodorant also suitable for sensitive skin. The deodorant is rich in natural actives that absorb sweat, eliminate odor and leave a fresh scent. Partly due to the presence of coumarins and triglycerides from Tamanu seed oil, this superior deodorant ensures an optimal microbial balance. The soft scents of sandalwood, orange and Icelandic moss make it a very exclusive deodorant.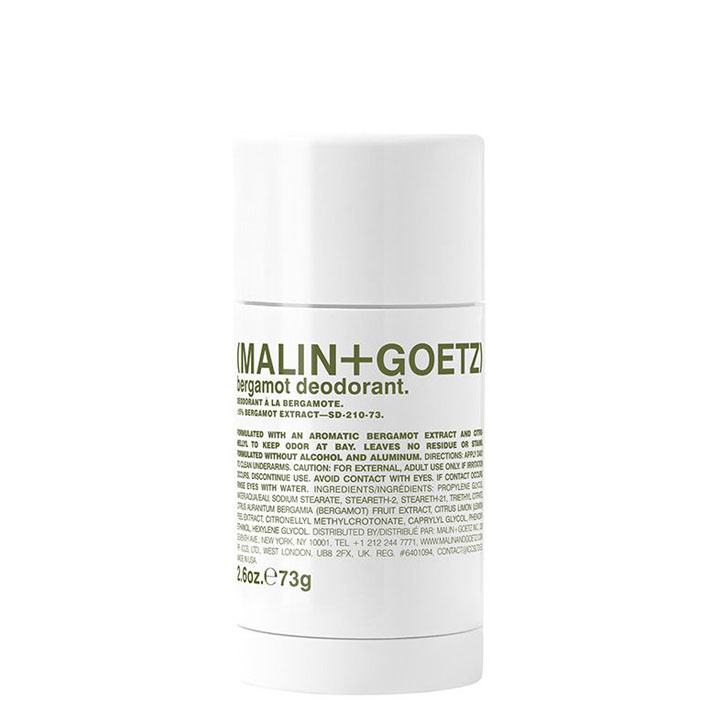 The iconic Malin+Goetz . With ditto deodorant. The pinnacle. This ultra-natural deodorant provides clean and effective underarm odor protection without the use of aluminum, alcohol, baking soda, parabens or synthetic fragrances. Natural bergamot extract inside and probiotic enzymes to neutralize sweat odor. Cornstarch on board to absorb excess moisture. The stick glides on smoothly and without residue to keep underarms fresh all day long. Suitable for all, especially sensitive, skin types. It contains a natural and heavenly scent of bergamot, fruit and citrus.
The deodorants of this brand are, rightly so, in almost every top list of best natural deodorants on the market. Malin + Goetz deodorants do not contain aluminum, alcohol, baking soda, parabens or synthetic fragrances, so that even the most sensitive armpits embrace this deodorant. The bergamot extracts and probiotics really know how to keep bad odors away and the deodorant also contains a corn starch that absorbs excess moisture so that your armpits become less wet from sweat. Less wet spots under your arms! The roller glides easily over the skin, does not stain and manages to keep odors away all day long.