A high-quality bar of soap designed for a man's naturally rough skin should not only cleanse your body, but also prevent any kind of irritation. A good soap bar for men should be made from high quality and above all natural ingredients, have a scent (or lack thereof) that you prefer, moisturize your skin, develop a nice lather and of course give you the confidence you need when you leave from the shower! In this article we tell you why a bar of soap is better than a liquid soap and we list all the benefits for you.


Why do I choose a soap block?
The shower gel bottles are made as attractive as possible. Bright colours, enticing texts and beautiful designs. In addition, they usually also smell very nice and have a beautiful color. With the exception of a few, liquid soaps are rather placed on an undeserved pedestal. The bottle, which is made of plastic, is the most expensive part of the soap.
Unlike most soap bars, liquid soap is made from chemical ingredients. Liquid soap also consists for the most part of water, which is why the liquid soap seems cheaper, but in reality it is not. Chemicals are used to add water to the soap. Mold can easily develop here, but something has been thought of here; preservatives. Not so healthy for the skin.
In addition, the shower gel also gets a nice color and nice scent. To create this, perfume and dyes are often used. All in all, a liquid soap often consists of (too) many harmful substances. So a soap block would be an excellent alternative!

Free from harmful substances
A block of hand soap usually contains fewer ingredients than a shower gel. Bars of soap typically do not require preservatives to keep them shelf stable, meaning they are usually free of parabens and other harmful substances. Liquid soap needs all kinds of chemical additives so that it does not mold. You can use a bar of soap for a long time and because it dries up on its own, dirty molds don't stand a chance.

It is also easier to make a bar of soap hypoallergenic. A bar of soap can contain many different ingredients. With the recent surge in the number of natural soaps available in the market, now more than ever, men have a choice of a wide variety of different ingredients.
Natural ingredients
These types of soaps often rely on a mixture of natural carrier and essential oils. In general, carrier oils are relatively safe and can be found in a lot of natural-focused products these days. Common carrier oils include: Jojoba Oil, Sweet Almond Oil, Argan Oil, Coconut Oil, Avocado Oil, and Grapeseed Oil.
In addition to carrier oils, you will also find essential oils, these oils mainly provide the wonderful scent of the product. Common essential oils include: Cedarwood, Sandalwood, Tea Tree, Eucalyptus, Frankincense, Lemongrass, Clove and Orange.
Free of plastic
For a bar of soap, the use of plastic has become completely unnecessary. Where you need a large amount of plastic for a bottle, this is not the case with a bar of soap. You also see very often that even the packaging of the bar of soap is free of plastic. Recycled paper/cardboard types are usually used for this.
Cheaper
A bar of soap is, compared to a liquid soap, a lot cheaper. You only need a very small amount of a bar of soap. This ensures that you can use it for a very long time. You usually automatically use more of liquid soap from a bottle, which results in a bottle that runs out sooner, so that you need a new one sooner. It is therefore a fact that hard soap lasts at least 2 times longer than shower gel .
Multifunctional
Bars of soap are not only cheaper, better for the environment and better for your skin. Many blocks of soap can also be used multifunctionally! Hands, head hair, beard, skin, you can really use a bar of soap for all kinds of purposes! So you no longer need a separate hand soap, shampoo or body wash, one block of wonderfully scented soap is sufficient!


How do you use a soap bar?
It may take some getting used to working with a bar of soap in the shower, but it's actually completely easy. Here we go: in the shower you take the soap block in your hands. You moisten the soap a little so that you can soap your hands. With your hands you then divide the soap over the body to wash yourself. The Soap on a Rope can do it the same way. But this one makes it easier because you can hang the soap on your wrist and grab a little soap during washing. The Musgo Real version is nicely round, making it easier to use directly on the body. All in all it works very easily. A tip is to store the soaps in a dry place using a soap dish where the soap cannot come into direct contact with water. Otherwise you will go through it much faster and that is not the intention.


Choice of The Alpha Men
Buy soap for men? Below we have selected some of our bestselling soaps for you. So if you are considering purchasing your first bar of soap, then the soaps below are certainly suitable to start with. The soaps are 100% natural and smell great!
Saponificio Varesino - Black Vanilla Exfoliating Soap
This Italian soap from Saponificio Varesino contains real vanilla and active charcoal. The charcoal in the soap is ideal for men with oily skin and those who suffer from acne. The soap cleanses and removes blackheads without drying out the skin.
Musgo Real - Men's Body Soap - Classic Scent
This delicious soap from Musgo Real will stimulate your senses and prepare you for a new day. The soap has a woody masculine scent created by top notes of patchouli, neroli and bergamot, middle notes of lavender, violet and wood, and is supported by base notes of vetiver and musk. The soap produces a soft and creamy foam that gives the skin good care and is enriched with, among other things, walnut extract, which ensures optimal hydration and effective cleansing, after which you can enjoy wonderfully soft and radiant skin.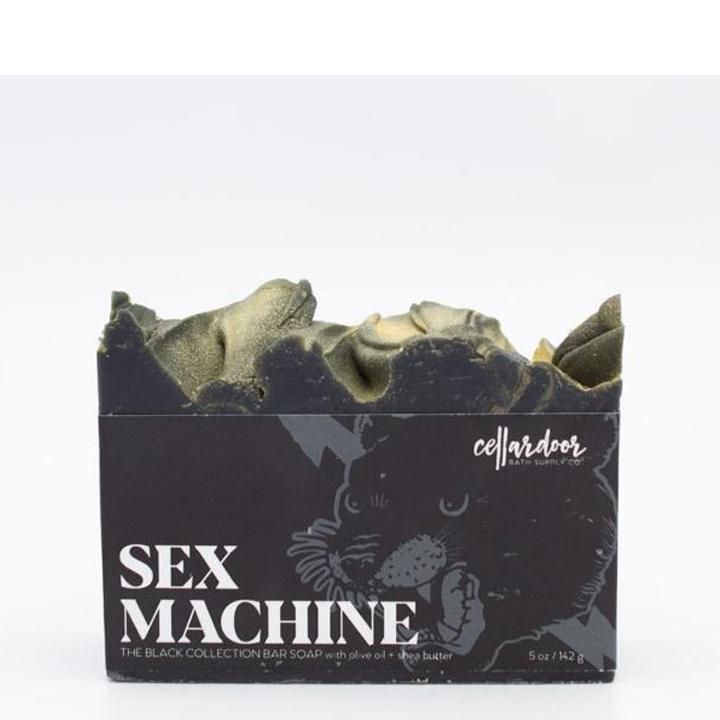 Cellar Door - Sex Machine Soap Bar
The Sex Machine Soap Bar from Cellar Door 's Black Collection, a 100% natural soap that is suitable for every skin. Make your skin care extra fun with this Sex Machine version. The soap can be used for facial care, body and hand soap. This soap from Cellar Door is handmade, 100% vegetable, completely vegan and smells very nice.