It's primetime to showcase some of our top artisanal brands. Premium brands that are only produced in a low quantity of quality batches. These often started as a 1-pitter with friends or family who literally started in a shed, garage or kitchen. Steve Jobs like. With a dream. The best body care products with preferably only organic ingredients and composed in the most natural way possible. Often driven by the lack of it in today's market. Experiment. To develop. Blood, Sweat & Tears. Pure Rock & Roll. Only the best is not good enough. The brands we introduce to you below have all experienced these developments. Pioneering & taking risks. This set the tone. Bringing high-quality beard, face & hair care products to the market with which these companies have created a close-knit fan base.


Dauntless Modern Grooming
We kick off with a relatively new brand from Nebraska, America. Founded in 2019 by master brewer Mike Smith, presenter at Modern Man TV, who also started producing high-quality hair care products on a small scale. Dauntless Modern Grooming . Also fearless. Mike has experimented fearlessly for 3 years in his shed and finely ground the pomade , wax and hair/beard & skin oil and made them what they are today. Soul and bliss has resulted in phenomenal products. Handmade & with the best natural ingredients.
Let's highlight 1 of the 4 masterful products. The pomade that Mike accidentally developed by juggling with various ingredients one evening and actually created the product that he is still very proud of.
This water-soluble pomade from Dauntless Modern Co. is specially designed to style your hair but also developed for the care of the scalp. This is due to the different oils and extracts that each play a role in repairing and nourishing your scalp. The pomade also has a wonderful scent with top notes of Apples, Bergamot, Mandarin, Neroli, Peppercorn and Pineapple, middle notes of Birch, Blackcurrant, Geranium, Jasmine, Lavender and Rose and is supported by the scents of Ambergris, Galbanum, Oakmoss, Patchouli, Sandalwood, Vanilla and Vetiver.

First Hand Supply
A club of passionate stormtroopers who once started from their apartment in Boston with only 1 goal: real care means putting people first. We help you care for how you look, feel and live - for good . Firsthand' produces high-quality hair care products for men on a small scale, of which we would like to put 1 in the spotlight. These could be the lost brothers of The Alpha Men. These dudes are on the exact same mission.

The water-based Clay Pomade from Firsthand Supply is made from first-class natural ingredients with a High Hold and a Matte Finish. Previously this was the Summer Pomade from Firsthand Supply and since 2019 it has a new packaging, name and an update in terms of ingredients and odor.

Friedrich van Beesley
The standard is always high in Germany. Whether about architecture, vehicles, design, Der Mannshaft or the Reinheitsgebot. Quality above all. People are extremely demanding there. Even when it comes to men's care products. For example, the noble Friedrich van Beesley has also installed a noble hair wax.
This hair wax from Friedrich van Beesley is currently one of the top premium hair products. With its matte Finish and a Strong Hold, this wax is perfect for short to medium haircuts. Designed for the modern man who wants powerful hair styling that works quickly and effectively. The Wax is made of masterful ingredients that fuse together to keep your hair looking perfect all day long. These components care for, moisturize and protect your hair so that your scalp and hairstyle remain in top condition. This is a hair wax for men who invest in the highest quality hair care products and do not want to make any concessions.


Lockhart's
As a car salesman in Michigan, street artist Steve Lockart had to sell cars outside in the heat week in and week out, and he had issues with keeping his hair styled. The hair products he used were not to his liking because they did not function well (enough) in the heat. Because of the good relationship with his Barber and partly motivated by him, Steve, together with his wife Nichole, started creating organic pomade in the kitchen. Like an avid alchemist, he managed to forge a hair product that ultimately met his wishes perfectly.
Friends and family also thought his smooth brew was excellent so he decided to produce more and refine the process. Partly due to the internet, Lockart's pomade got 'media attention' and the ball started rolling with a small physical shop as a result. Now successful all over the world with its superior small batch produced pomade.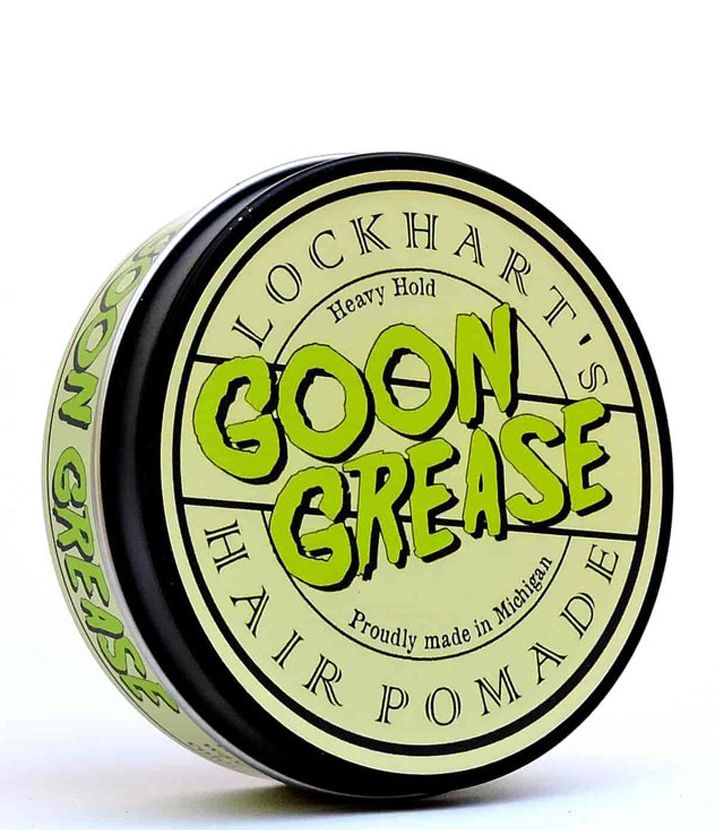 The Lockhart's Goon Grease Heavy Hold Pomade is an oil-based pomade with a high hold and a high shine. A Pomade like you've never seen before. Goon Grease from Lockart's has an unprecedented High Shine with a Heavy Hold. With this Pomade you no longer need a top coat because it makes your hair shine and keeps your Pompadour, Jelly Roll or Slick Back in place. The whole day long! Despite the Heavy Hold, the Goon Grease is easy to apply. Washing out is a bit more difficult because this is an oil-based pomade, but with a good shampoo this is no problem at all.


Morris Motley
Australian Morris Motley. There where exceptional care products for men are developed exclusively by hand and with botanical raw materials in an innovative way. Mysterious, authentic and tailor-made. By those wizards in their lab. Also this exclusive Pomade:
Morris Motley Pomade is a pomade with a high shine and a firm hold. Makes sure your hair is in good shape again. Suitable for all hair types.


Shear Revival
Made by the mindful & estated in 2013. In that year, founder Zachary West started with only 1 mission: to develop organic care products that meet the standard he had in mind. Handmade, artisanal and in small batches.
The Gray Ghost Strong Hold Cream Pomade from Shear Revival has a strong hold and is a lightweight cream pomade from Shear Revival. The Ghost has a High Hold with a Matte Finish and is brewed on the basis of natural ingredients. These properties make this sophisticated product a real unorthodox Pomade. This phenomenon is handmade. Correctly composed for a healthy scalp and hair as a basis. 100% vegan and washes out easily with water.