When do you use a hair brush ? Chances are that you just grab what you see lying around and don't think about it further. Yet every hairbrush has a different function and in some cases you can use that one brush better than the other. Can't see the wood for the trees anymore? We will explain it to you in detail in this guide.


The types of hair brushes
There are so many different hairbrushes on the market that we can understand that choosing the right brush can be difficult. Which brush you need depends mainly on the type of hair you have. In addition, your choice also depends on what result you want to achieve with it.


Paddle Brush
Apaddle brush is also called a flat brush. You can recognize it by its large square or rectangular shape and looks a bit like a paddle. Hence his name. 
This brush has a rubber cushion with bristles sticking out. Usually these are nylon pins with a plastic ball on the tip, but there are also variants with natural pig bristles without a ball. 
A unique feature of this brush is its resilient pad. This allows the pins to move flexibly during brushing and will glide more gently through your hair. This brush is therefore very soft for your hair and massages your scalp. Hair oils are better transferred to the hair as a result.
Paddle brushes are good basic brushes and also by far the most popular. They are ideal for it smoothing or detangling your hair daily. You can also use these brushes for straightening in combination with a hair dryer .
This brush is especially suitable for men with longer hair. If your hair is short, it is better to use a rectangular Paddle Brush or Oval Brush.
Hair type: Straight and wavy hair

 

Length: Medium to long hair
Ideal for: Detangling and smoothing

Oval Brush
This brush is an oval version of the paddle brush, also called a Classic or Pneumatic brush. The only difference is that it is a bit smaller and the bristles are often closer together. This makes the brush also suitable for men with a short haircut.
Do you want to use this brush in combination with a hair dryer? Then keep in mind that you will not get your haircut as smooth as with a paddle brush. This is because oval brushes have a round shape.
Hair type: Straight, wavy and curly hair
Length: All hair lengths
Ideal for: Detangling and smoothing

Vent Brush
You can recognize the Vent Brush by its openings. These ventilation holes are called "vents" and provide better airflow. Vented brushes are therefore ideal for blow-drying your hair. 
These brushes almost always have nylon pins with a ball on top. They are often placed far apart and therefore offer a lot of space for air movement. Your hair will therefore dry a lot faster during blow-drying.
Do you want to create volume or style your hair? Or are you just in a hurry? Then a vent brush is an ideal brush for you.
Hair type: Straight, wavy and curly hair
Length: All hair lengths
Ideal for: Styling and creating volume

 

Military Palm Brush
In short, a military palm brush is a brush without a handle. It is almost always oval in shape and filled with bristles or nylon. This brush dates back to the 18th century and was seen as the ideal brush to take with you on a trip.
If you have short hair and want ultimate control, this is the brush for you. Many men think that their hair is too short to brush, the opposite is true. A brush like this actually helps improve scalp health, remove dandruff and distributes hair oils for healthier hair.
Hair type: Straight, wavy, curly and frizzy hair
Length: Short hair
Ideal for: Detangling and smoothing

Denman Brush
This is the most versatile brush in the list; the Denman brush . You can use it to style, detangle and create volume. This brush is also known as a styling brush. It can be recognized by the nylon pins arranged in rows of 5, 7 or 9. This has the function that you can detangle your hair more easily.
The head of the brush has a semi-cylindrical bulge, so you can create a lot of volume with it. This brush is therefore ideal for men with short thin hair. You can style your hair in such a way that your haircut looks a lot fuller.
Hair type: Straight and wavy hair

 

Length: Short to medium length hair
Ideal for: Styling, volume and smoothing

 

Quiff Roller
A round brush, also called a round brush orQuiff Roller , can be recognized by its cylindrical head. Because of this shape, the brush is mainly used to create waves, curls or volume in hair.
For men with long hair, we do not recommend choosing a brush with a small diameter. This almost always leads to tangles and knots in your hair. Do you have a short haircut? Then choose a brush with a small diameter, this gives a firmer curl.
Hair type: Straight, wavy and curly hair

 

Length: Short to medium length hair
Ideal for: Styling, creating waves, curls and volume

 

The types of bristles
In addition to the huge selection of different types of hair brushes, there are also different types of bristles that you can choose from. As a rule, there are three of them. Synthetic, pig and mixed bristles. Which type you need depends on the type of hair you have and what you want to use a brush for.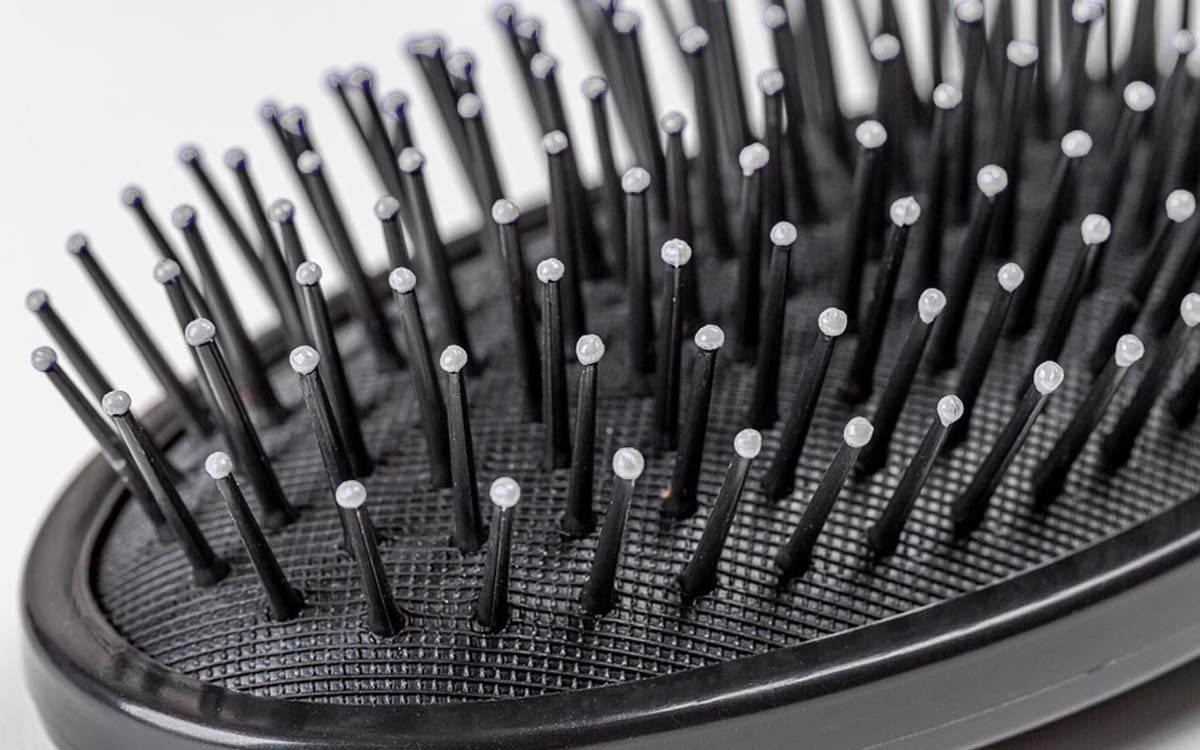 Synthetic hair
The best choice to tame thick, long and unruly hair. Only nylon pins can penetrate this type of hair well. These stiff pins offer a lot of grip and are therefore ideal for detangling hair. With synthetic hair you also prevent your hair from becoming static.
Hair type: Thick hair
Ideal for: Detangling

Pig bristle
Boar hair is 100% natural and very suitable for brushing fine and short hair. Because these bristles are soft and flexible, your hair will be damaged or broken less quickly. Boar hair ensures that your hair cuticles are closed during brushing, so that the hair retains its moisture balance. The hair's natural oils are also distributed to the ends with boar bristles. This ensures a shiny soft end result.
Hair type: Fine, fragile and thin hair
Ideal for: Shine and improve scalp and hair health

Mixed hair
A combination of pig hair and synthetic hair is seen by many as the best of both worlds. The boar bristles make your hair smooth, soft and shiny, while synthetic hair optimally detangles your hair. These hybrid brushes are therefore suitable for all hair types.
Hair Type: All types of hair
Ideal for: Detangling and shine


How do you clean a brush?
Remove the hair from your brush every time you use the brush. You can pull these hairs out with your hands, but there comes a time when your brush is full of hairs that are difficult to get out. Very annoying. By using a tool like the Bossman The 'Claw' Beard Brush Cleaner you can easily remove these hairs. You can use this brush cleaner for brushes with boar bristles and nylon pins.

The best brushes
Finally, we have selected three brushes for you. These brushes all have unique properties. Which one suits your hair best?

Denman D3M
If you are looking for an all-in-1 brush, this is your brush. Whether you want to detangle, smooth or volumize your hair, this versatile brush can do it all. The Denman D3M also has very soft nylon pins that do not damage your scalp.
The Bluebeards Revenge Wooden Vent Brush
This sturdy vented brush from The Bluebeards Revenge is made of weathered beech wood. Are you always in a hurry in the morning or do you want to style your hair? Then this is the ideal brush for you. The nylon pins detangle your hair with ease and the 7 "vents" ensure that you can blow dry in no time.
Marielle Martinato Buffalo Horn Brush
Do you want to spoil yourself with pure luxury? This brush from Mariella Martinato is handmade in Italy. Each brush is a unique piece of craftsmanship. Made of walnut wood and decorated with real buffalo horn. The bristles are made of dark pig bristles. Ideal for men with thicker hair. This is a natural product, so no two brushes are the same.