Do you use a pomade for your hair? Then there is a good chance that you have seen or perhaps even used the pomades from Layrite and Suavecito. In this blog we look at the differences between the two most famous pomades and which one is best for your hair.
 
Suavecito pomade original vs Layrite original pomade
Suavecito and Layrite are two of the best known pomades on the market. they are qualitatively close to each other, but their backgrounds are also very similar. At The Alpha Men, the story is even going around that their stores in California sat next to each other and that they got into a fight. Whether this is really the case we will probably never know. In this battle we will discuss the original pomade of both brands.


Suavecito
It all started as a bunch of hardworking friends in need of a good product. Unfortunately, a good product that met their requirements was too expensive, so they decided to make something themselves. They started experimenting with different ingredients in buckets at home and that resulted in the product we know today. After the friends moved out and their neighbor said they looked "suavecito", the brand was born.


Layrite
Founded in 1999, the barber trade seemed almost extinct. The founder nevertheless continued to exercise his greatest passion as a barber to cut perfect haircuts. His technique was hampered by the traditional oil-based pomades that are difficult to wash out of the hair. He decided to make a product himself. While using the homemade product, a customer said it was the only remedy that "made his hair lay right" and that was the start of a new brand.


The Battle of pomades
Whether it is a battle that can be won remains to be seen. Both pomades are very popular worldwide. They are also well represented at The Alpha Men. In any case, we will give our opinion on both products and provide a rating based on factors that are most important to our customers.
Ease of use of the pomade
Both products do this very well. The Suavecito is a little brown translucent and can be distributed flawlessly through the hair. The Layrite looks a little more orange and feels more like a wax without the stickiness and is also easy to distribute. However, the Layrite is a bit more difficult with longer hair. The Suavecito is easy to apply in all circumstances and therefore wins this one.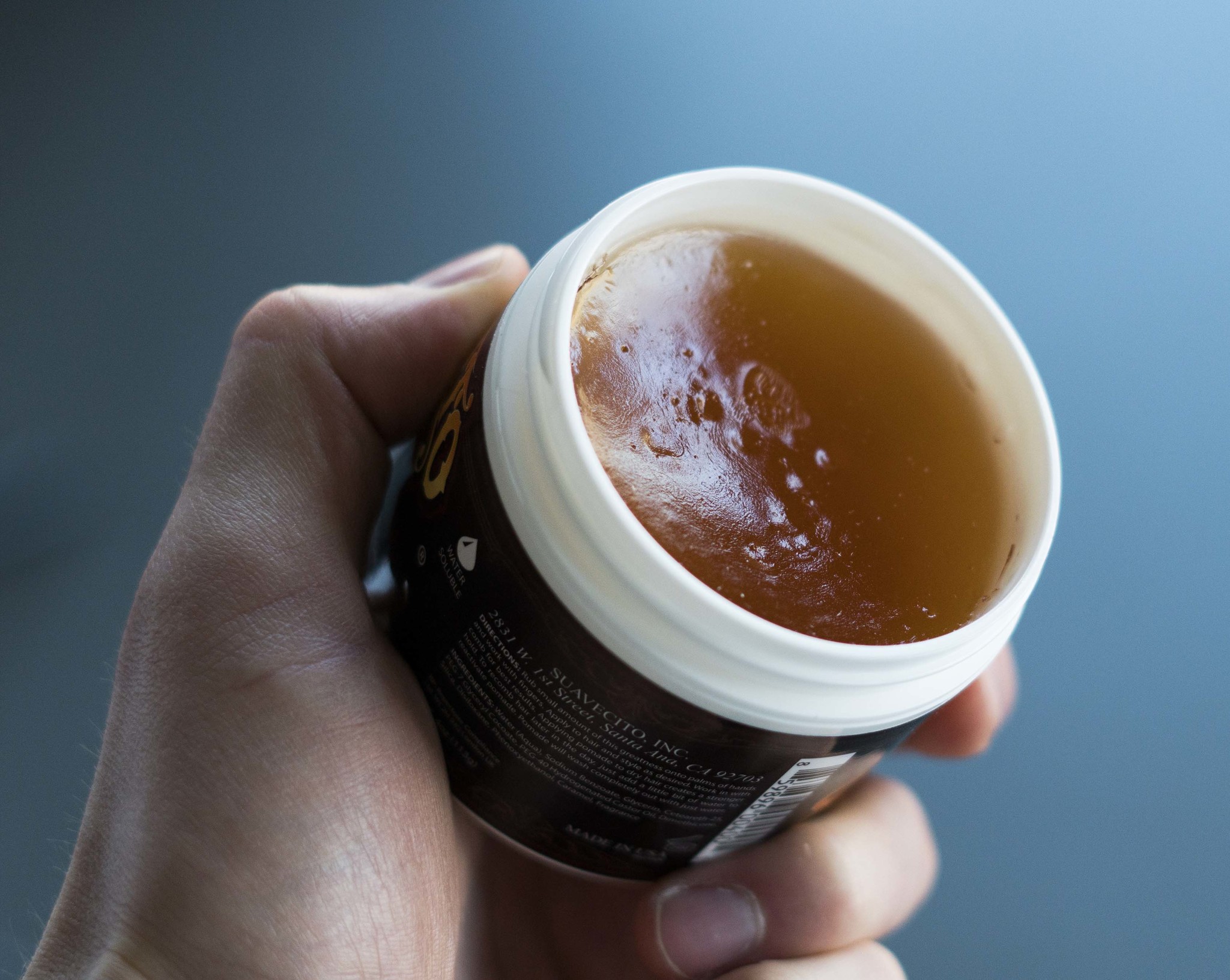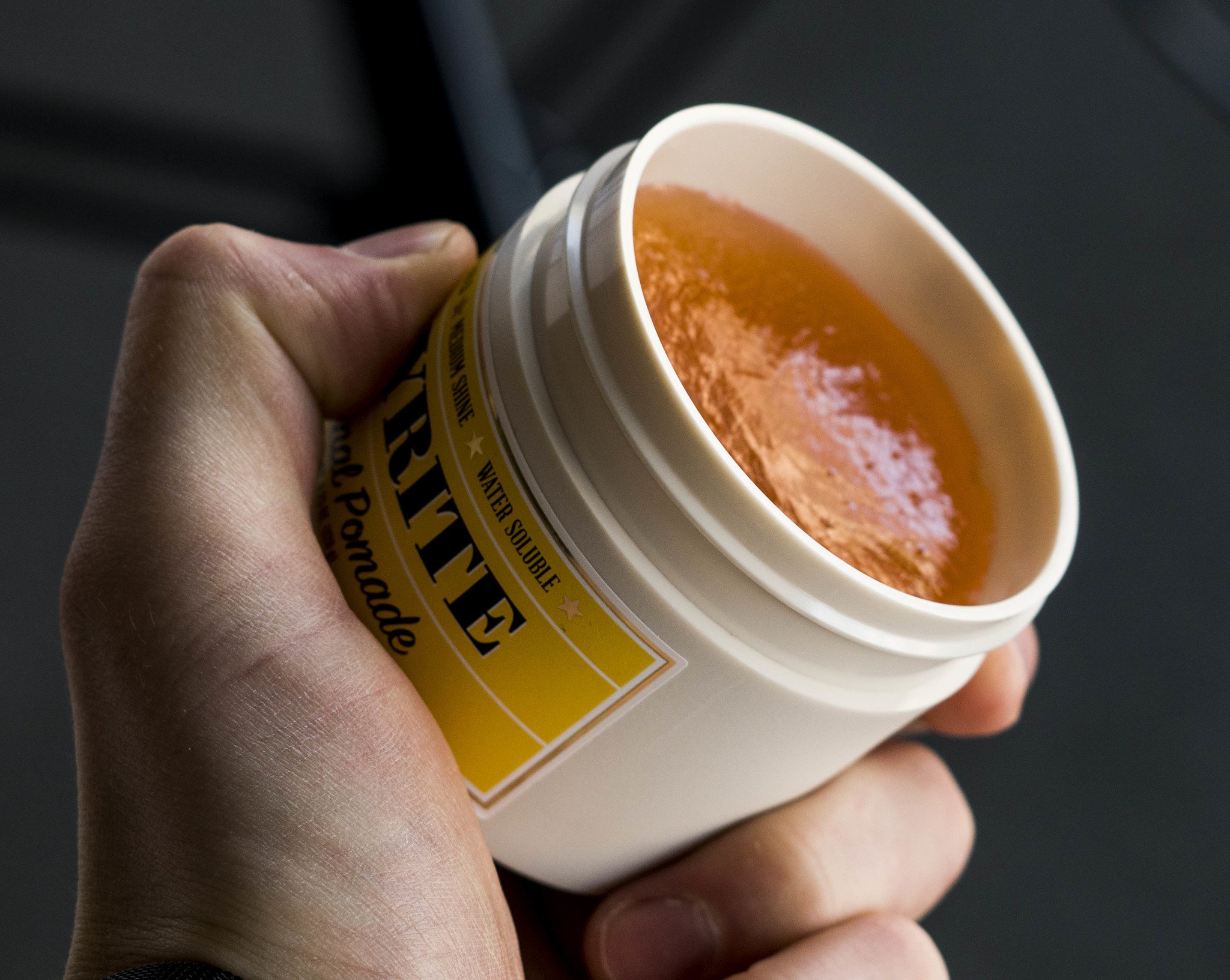 Wash out pomade
The raison d'être of a water-based pomade is, of course, that you don't want to use two bottles of Dreft to get your hair clean again. Fortunately, that is not necessary with both products. You just need to rinse your hair with water and the product is gone. No clear winner.
Odor
Well, smell is of course more a matter of taste. Although (almost) everyone thinks that your grandmother's old socks don't smell very pleasant, opinions are more divided on this subject. The Suavecito smells very fresh and masculine. Almost a cola like smell which is not too strong. In any case, we think it's a very pleasant scent. The Layrite smells a bit sweet like vanilla. We had to stop an employee here from putting it in his mouth, it smells so good. For us, Layrite wins this one.
Hold
Nothing is as unpleasant as hair falling out of shape during a date with that one beautiful lady. You don't have to be afraid of that with the Layrite. Although the jar indicates that it is a medium hold, it is almost as strong as the high hold of other brands. The Suavecito also has a great hold, but a little less strong. A good tip is to apply it in somewhat drier hair. Then the hold will be better but the shine a little less. It works exactly the same the other way around. The Suavecito also feels a bit more like a gel. It just doesn't get hard.
shine
Here the Suavecito is clearly better. The product provides a beautiful shine that looks natural. The more damp the hair is when applying the product, the more the hair will shine. The Layrite also gives shine but a lot less. Of course it just depends on which effect you like better in your hair.

Which pomade is best?
If you value a good hold more, Layrite is clearly the winner. Maybe you prefer a nice shine, then Suavecito would be your choice. Both products cost the same. Our preference is slightly more with the Layrite Original Pomade because of that good hold and wonderful scent. Either way, you'll get your money's worth. Both products contain natural ingredients so you will not suffer from acne and it is easy to wash out of the hair.
Became curious? try them out and judge for yourself which one you like best. Feel free to leave a review.
View the Suavecito Pomade Original and Layrite Original Pomade in the shop