You are probably familiar with the term: 'sensitive skin'. It is quite a broad term that can be questioned a lot. What exactly does sensitive mean? Because it doesn't mean you spontaneously start crying at The Notebook.
It mainly means that your skin is in a state of hyperactivity. In a nutshell, your skin works too hard, too much and reacts too quickly. Your skin is more vulnerable to both internal and external factors. Let's take a look at the causes of sensitive skin, how you can recognize and prevent it. Of course we will make a step-by-step plan for you to soothe your sensitive skin and transform it into healthy skin.


How do I know if I have sensitive skin?
Every skin is different, so it's important to knowwhich skin type you have. Sensitive skin has a few typical characteristics. If you can relate to many, most or perhaps all of them, you have sensitive skin.
Your skin feels tight (especially after cleansing)
Your skin may feel rough and flake, especially around the beard area
Your skin is generally red quickly
After shaving your skin is burning and red
You quickly have wounds or irritations after shaving
You are more prone to rashes from certain allergies
Your skin often feels dry
Vulnerable to weather conditions
Vulnerable to moisture or dirt
As if this wasn't annoying enough, germs and harmful substances can also penetrate your skin more easily. This is because the skin barrier is less thick and developed in people with sensitive skin.

Why do you have sensitive skin?
Now that you know if you have sensitive skin, it is of course just as important to see where that sensitivity comes from. Unfortunately, there is no easy answer for that. It can be hereditary, but it can also be related to sensitivity to certain environmental factors. For example, soap, cosmetics or sunscreen can be the culprit. In addition, the sensitivity can be a reaction to contact with plants or animals or the food and drinks you consume.
Your skin can also generate a reaction due to the climate. The sun, harsh wind, salty wind, freezing cold, humidity, etc. all have their own effect on your skin. One skin can withstand heat well, the other cannot. Just think how your skin reacts when you are at home as opposed to winter sports or a holiday on the Costa del Sol. Your skin is a chameleon, one skin changes more easily than the other.
Research has shown that all sensitive skins have something in common: a thinner top layer of skin. The number of skin cells in this area are also a lot less than normal. The result is an impairment of the skin's barrier function, making it less resistant than 'normal' skin.

Tips for men with sensitive skin
To make it a little easier for you, we have prepared some tips for you. Don't be put off by the tips, because most natural products have few ingredients so you can filter out the difficult terms you read below! Child can do the laundry, if he can read that is.
Go for natural products! This way you girl chemical junk that affects your skin.
Always choose a product that does not contain perfume and dyes. Perfume is a major culprit for sensitive skin and will quickly irritate it.
Go for a product that does not contain alcohol. Unless it is a cetyl, stearyl, cetearyl or lanolin alcohol. These are not harmful to your skin, all other variants can cause redness, dryness and irritation.
Go for products specially formulated for sensitive skin. You will often find ingredients such as aloe vera, allantoin, niacinamide, green tea, beta-glucan or licorice root. These ingredients are caring for your sensitive skin.
Also choose a natural sunscreen ! Sunscreen often contains chemicals that your skin can react to. Be careful with the following ingredients in your sunscreen: oxybenzone, octyl methoxycinnamate, octocrylene and avobenzone.
Make sure you find the right care routine for your skin. We will discuss this further below and explain it step by step.
Do not forget to check the shelf life of your products. Some men use the old jars Dad gave them sometime in 2010. We do not recommend because care products can also expire.
Sensitive skin can indicate a certain reaction to cosmetic substances. If you want to find out which substances these are, you can make an appointment with a dermatologist.
Keep your moisture balance up to prevent your skin from drying out. In addition, it is also useful to eat healthy. Good skin glows from within!
Moisturize and nourish your skin regularly. This way you strengthen your skin to handle more stimuli from both internal and external.
Last tip, but a very important one: test your product before you use it. Behind your ears or on your wrists. That way you know for sure how your skin reacts to it before you apply it generously on your face.


How do you care for sensitive skin?
1. Cleanse with a mild facial cleanser
Facial care for men always starts with cleansing the skin. Cleaning is not only important for impure skin types, but for all skin types, including sensitive skin. It is extremely important that you use a good facial cleanser for sensitive skin. Many cleansers have the property of stripping the skin too much of its own skin oils, which will dry out and irritate your skin. So go for a cleaner without sulfates, silicones, parabens and perfume.
Tip: Important when cleaning sensitive skin: be careful! Don't go crazy with scrubbing and rubbing. Give your skin some TLC and treat it carefully.
Clean with lukewarm water.
Gently massage your face with the mild cleanser.
Rinse with lukewarm water.
Gently pat your face dry, do not rub.
After a skin cleansing it is often recommended to exfoliate, but we like to skip this when it comes to sensitive skin. Exfoliating is a slightly rougher way of cleaning your skin, and often too rough for your skin type. If you exfoliate, do it max 1x per week. Otherwise you will only further irritate your skin.
2. Use a serum
When you have cleaned your skin, it is important to moisturize your face. You want to provide your sensitive skin with sufficient moisture. A serum is best suited for this. Specifically one that contains hyaluronic acid. Hyaluronic acid has the property of absorbing moisture into the skin and retaining it, which will restore your moisture content. With sensitive skin, evaporation is low, so your skin will need this.
Hyaluronic acid is a sugar molecule and is naturally stored in your connective tissue. Hyaluronic acid binds to collagen and water and therefore ensures that your skin stays hydrated and your joints remain flexible. These miraculous molecules can each hold 1000x their own weight within the skin cells. These powerhouses are therefore extremely important building blocks to keep your body fluid and flexible. Let's say we are quite a fan.
3. Use a day cream for men
Sensitive skin has a poor skin barrier. As a result, moisture is lost and the skin is not strong enough. To protect sensitive skin, you should therefore opt for a moisturizing day cream (or night cream ). Preferably as natural as possible without all the nasty substances we have already discussed. So go for a cream with a lot of natural oils and butters. They ensure that you build up a good layer of moisture in your skin.
4. Treat your skin a little extra sometimes
Come on guys, we live in 2022. A face mask isn't just for women anymore these days. Your sensitive skin will be very happy from time to time with a mask that pampers the skin a little extra. For example, take a look at masks with vitamin E. These ensure that your skin receives some extra hydration. A gel mask is also recommended. This cools sensitive, red skin and is skin-repairing and calming. We like.


The best products for men with sensitive skin
The last part. But the most important. What kind of products should you actually buy? How do you decide which product you want with all the choice you have these days? We have come up with a solution for that.
In collaboration with our skin specialists, we have put together a skincare kit especially for men with sensitive skin. Here you will find top products that best suit your sensitive skin. A suitable skin care routine for men in one set. We call it the skincare routine kit.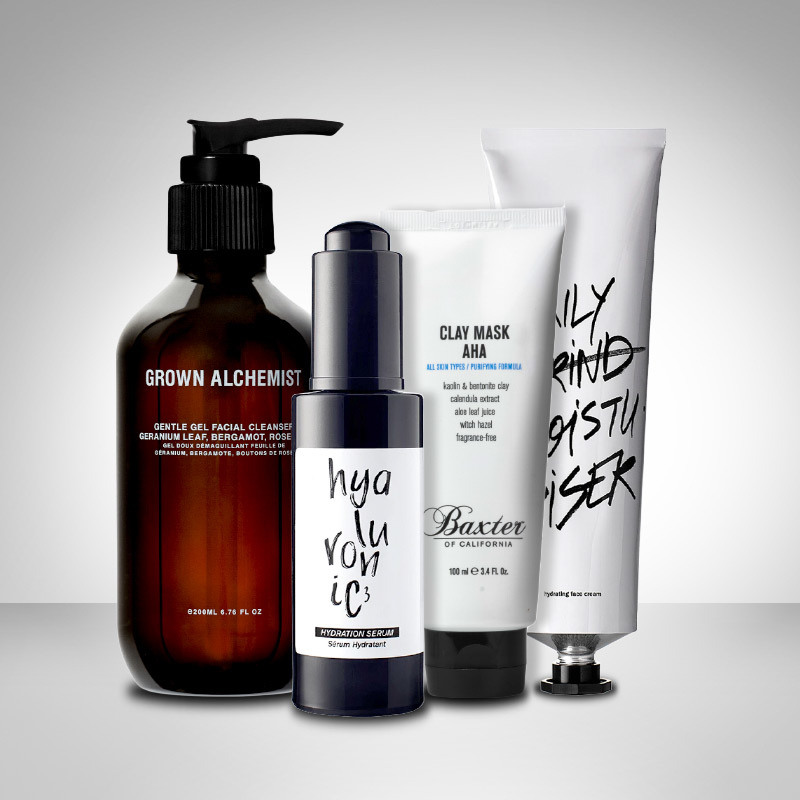 Of course we have many more facial care for pigmentation and redness and sensitive skin. We have everything you need, such as serums, cleansers , serums, day creams, night creams and so on.
If you still have questions, feel free to contact us! We are happy to help you, that's what we're here for. You know where to find us.
Good luck guys!
Your friends, The Alpha Men