WTF is Croap! Are you just a little familiar with our special shaving soaps or do they cycle in another type of soap? No. Croap is actually a corruption of a soft shaving soap. In America they call it: cream + soap = croap. Maybe you already shave with a croap without knowing this. Let's give this type of shaving soap a stage.


What is the difference between Croap and the hard shaving soaps?
Traditional wet shave . Especially if you are a lover of the real soaps. Hopefully we (at the time) managed to enthuse you to treat yourself with a shaving soap with natural ingredients. And hopefully also with a classic safety razor . Oldskool like Grandpa and perhaps also your father is still stolen and driven in front of the mirror.
The Croap belongs in the series of shaving soaps with which you use a shaving brush . This type of shaving soap, like the hard soap, is also packed in a bowl. This allows you to easily, by heating the brush with hot water, brush the soap out of the bowl and whip it into a foam .
Croap is somewhere between a cream and a hard shaving soap. So relatively soft. This makes it easier to mix with the warm water in the brush. In addition to these 2 soaps, there is also a soft shaving cream. The properties of the 3 types explained below:
Croap – A relatively malleable substance that is therefore easy to shape and quickly mixed with the warm water with the shaving brush. The soft shaving soap foams slightly more easily than the hard variant. You can use more of this type of soap than the hard shaving soaps, so it will be used up a bit faster. Croap contains slightly more odor components than the harder variant.
Hard shaving soap - Is not malleable and harder in composition but lasts longer than a croap. It needs more friction to yield enough foam. But once whipped up one of the oldest ways of the traditional shaving experience with mostly soft scent notes. Most hard soaps come from France and Great Britain. The softer varieties, such as the Croap, originate mainly in Italy.
Shaving cream - A shaving cream is a softer substance than a shaving soap or croap and comes in several types. A shaving cream is therefore also slightly easier to foam and extra suitable for beginners. It can even be applied directly to the face with your fingers. Most shaving creams come in jars just like the shaving soap, but they also come in tubes. The scent of shaving creams is often a bit sharper than that of traditional shaving soaps and croaps.
Obviously everyone has their preferences. Although we will of course try to warm you up if you have not used a croap before to try it and add it to your shaving arsenal. You probably also switched from the environmentally unfriendly buses to the real artisan work.


What are our favorite croaps?
Let us introduce you to a number of croaps that we, not entirely coincidentally, have in our range and have a large fan base.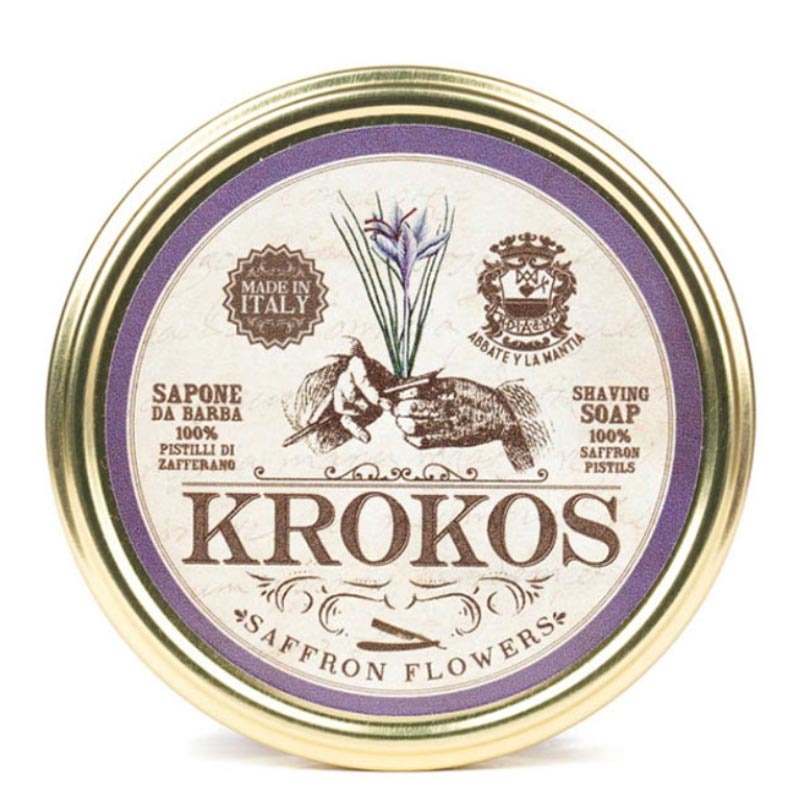 Talk about spicy crème de la crème. This Krokos is Abbate Y La Mantia 's masterpiece. A soap was created when this cosmetics house from Tuscany bombarded saffron as a protagonist. Krokos is not shaving soap with saffron, but soap produced artisanally from saffron. So it is actually a saponified saffron, is 100% organic and vegetarian. The soap therefore has a rich scent of saffron and provides a refined care for the skin.
By the way, the posh Abbate A La Mantia grows their own saffron. This precious red spice comes from the saffron crocus. This relatively rare crocus is a flower that only blooms eight days a year. To obtain saffron you need to separate the pistils from the flower.
This exercise is performed completely manually. To get 1 gram of saffron you need no less than one hundred and fifty saffron crocuses and that is why saffron is also called the 'red gold'. Saffron is an antioxidant, has a medicinal effect, restores skin cells, is suitable for all skin types and activates the metabolism.
Once you run the shaving brush through this Krokos', you're actually ruined for the rest of your life.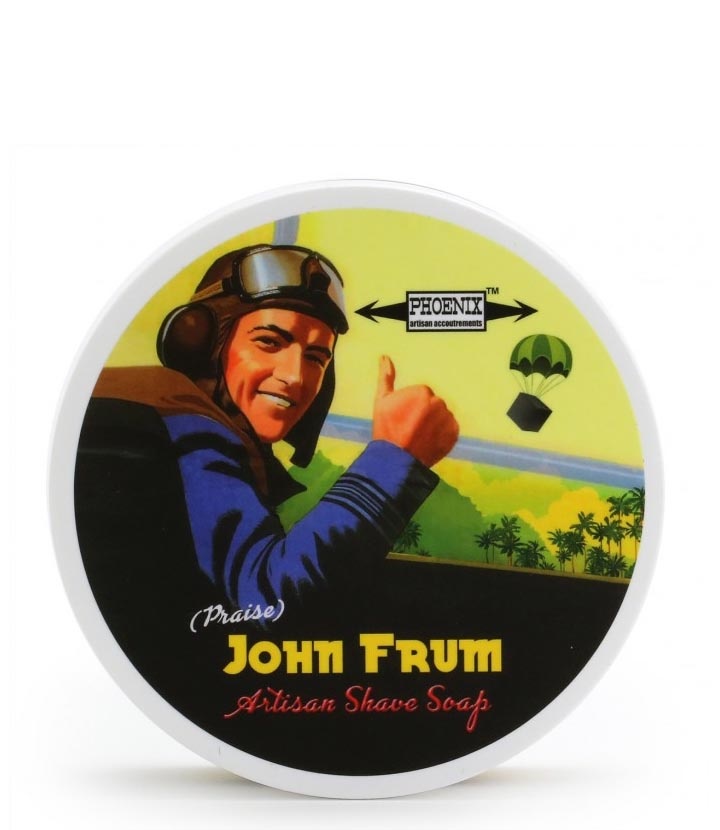 Not yet familiar with John Frum? This shaving soap from Phoenix Artisan is a handmade, vegan shaving soap. Made with pure craftsmanship and tingling passion in Arizona, USA. You beat the shaving soap into a rich and comfortable foam, which ensures a soothing shaving experience.
The John Frum shaving soap contains the unique CK6 formula. The most dense and moisturizing shaving cream on the market today. CK6 is the result of a long search for premium ingredients for a shaving soap. It contains many essential oils and butters such as Kokum, Cocoa, shea, bacuri and Capuacu. These 5 soothing powerhouses guarantee a moisturizing and sublime soothing effect on the skin.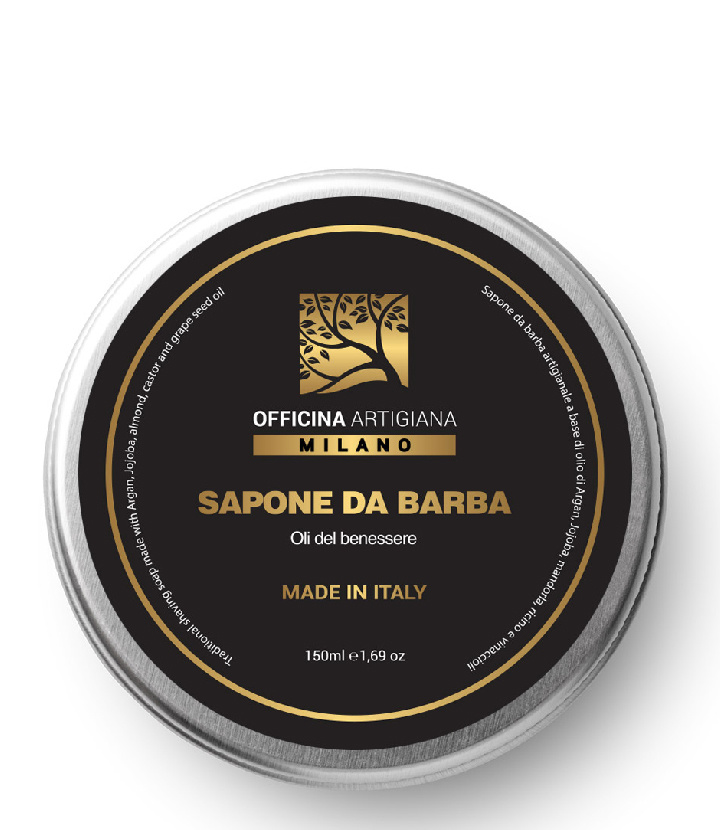 The formula of this excellent shaving soap from the famous Officina Artigiana Milano consists of 40% essential jojoba, argan, almond, grape seed and castor oils that provide the skin with healing care for hours after shaving. Not only the natural oils, but also the ingenious production process makes this shaving soap very special.
All ingredients are individually and meticulously processed by hand to get the best out of the ingredients. Warm top notes of birch and black pepper immediately give this shaving soap cachet. Fresh orchid, middle notes whiskey, honey, tobacco and saffron with a leathery hint offer a very special fragrance composition. The continuation of the base notes of wood, amber, guaiac and barley, gives the scent of this shaving soap, in combination with the special ingredients, the complete wellness experience.
ENJOY the shave!
Your friends, The Alpha Men.