What is a Cleanser?
A cleanser, also known as a facial cleanser , is a facial care product used by men to remove dead skin cells, oil, dirt and other types of pollutants and harmful substances from the skin of the face throughout the day. This helps to unclog pores and prevent skin conditions such as acne . In this article you can read all about cleansers, which types there are and which cleanser best suits your skin. We also give you a number of examples of cleansers that have been selected by us.


Properties and function of a cleanser
During the day and night, sebum, dead skin cells and other dirt accumulate. If you don't clean this, your skin will look dull and irregular. The pores can clog and you are more likely to get acne, for example. The active substances of face cream will also penetrate better into skin that has been cleaned. The perfect cleanser cleanses the skin well, without disturbing your skin's barrier. This barrier is your skin's armor. You can easily disrupt this with an overly aggressive cleanser. Unfortunately, this happens with a large part of the available cleansers because harmful substances such as alcohol and sulfites have been added. Therefore always look for a mild cleanser without irritating substances.


Do I need a cleanser?
Cleaning your skin is necessary because your skin drains waste through the pores at night. During the day your skin is exposed to many external waste such as fine dust, exhaust fumes and other harmful substances. It is therefore always advisable to use a good cleanser . How often a cleanser should be used depends on your skin type. A good rule of thumb for men with normal to oily skin is to cleanse twice a day, with sensitive skin only in the morning. So a good skin care routine for men should start with a good cleanse in the morning and evening! Washing your face twice a day also paves the way for a nourishing, protective moisturizer, which doesn't absorb well when there's a layer of oil on the skin. A moisturizer can also trap further dirt in the pores if that buildup isn't washed away by a cleanser first.


What should I pay attention to when purchasing a cleanser?
If you have oily skin (which men are more prone to, much more than women), if you sweat a lot, or if you lead an active lifestyle, you may also need to cleanse several times a day. For one of these reasons, you should use a heavy-duty cleanser that gets rid of dirt, but is also gentle enough on your skin that it won't leave your skin feeling irritated or dry.


Our Top 3 Cleansers
Be careful with certain substances in a cleanser

Alcohol base never apply alcohol to your (facial) skin, unless you have a nasty wound and need to disinfect it of course. Alcohol-based cleansers will dry out your skin, leaving it red and dry.
Sulfates Many cleansers contain sulfates, which are often labeled as SLS or SLES. While not all foaming cleansers contain sulfates, generally all sulfate cleansers foam. These sulfates can clog pores or irritate sensitive skin.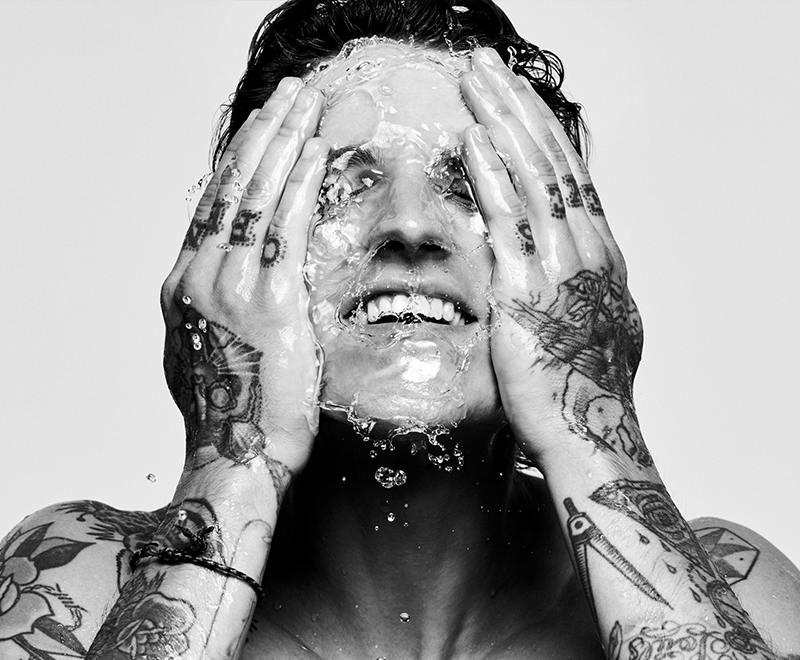 What types of cleansers are there and how do I use them?
You can choose from many different types of cleansers. For example, there are cleansers based on foam, gel or charcoal. But how do you know which type of cleaner suits you best? And which cleaning ingredient is indispensable in your cleanser? Below we explain to you exactly what the different cleansers entail.
Powder
Powder cleansers can be made with many ingredients, from rice to clay. Usually they are botanical powders and do not contain the chemicals that many liquid cleansers do. You simply mix the powder with water in your palms to make a cleansing paste. Some, such as rice-based or enzyme powders, also have a gentle exfoliating ability.
Cream
Cream cleansers are good options for dry and sensitive skin, but not for oily skin. They usually contain oils that help nourish the skin while cleansing. If you have oily skin, this will only make it oilier.
Gel
Gel cleansers are loved for their deep cleansing effect, so a gel is a great choice for oily or combination skin types, but may be too drying on sensitive and dry skin.
Charcoal
Charcoal is a well-known substance and is used in many skin care products for its ability to draw oil from deep within the pores. This also makes it a great ingredient in cleansers. It is important to have a second cleanser to alternate with. When you use a charcoal cleanser daily, it may dry out your skin a bit.


Usage
Before you start cleaning your face, you need to open the pores. Open the pores by taking a hot shower or wetting your skin with warm water.
Then rub the cleanser you purchased on your face in circles. Do this carefully, as the skin on your face is very sensitive.
Then rinse the cleanser well with cool water. This gives you a fresh feeling and also closes the pores again.
Pat the skin dry, do not rub.
After cleansing your face with a cleanser you should feel 'clean'. When your skin feels tight or slightly tight, this is often a sign of (too) dry skin. This will eventually lead to extra sebum production.


Choice of The Alpha Men
Below we have drawn up three high-quality cleansers which, regardless of whether you are an experienced user or not, give you the right basis for well-cleansed skin, without the addition of harmful substances.
This Facial Cleanser from the Doers of London brand gives your day a perfect start. This facial cleanser produces a pleasant foam that disinfects the face without irritation and impurities on the face. The facial cleanser also regulates the sebum production of the skin. contains only natural ingredients such as organic cucumber extract, which has an anti-inflammatory effect and organic green tea extract, with antioxidant and antibacterial properties. In addition, Jojoba oil has been added to this cleanser, this substance is full of vitamins and healthy fatty acids that will positively affect your skin. The lemon and lime oil in this cleanser ensure that the skin will feel pleasantly soft. This cleanser is free of SLS, SLES, silicones, mineral oils, glycols, TEA, DEA, PEGs, synthetic fragrance and dyes.
The Charcoal Face Wash from the brand The Gray is a detoxifying face wash that gives the pores of your face a deep cleanse. The Face Wash is enriched with a natural charcoal extract that, through deep cleansing, removes dirt and excess oils from the pores, preventing the pores from clogging. The Charcoal Face Wash from The Gray brand is also free of parabens, petrochemicals, sulfates, SLS, SLES, dea, alcohol and suffering, and is also completely vegan friendly!
This fine Daily Face Wash cleanser from the Baxter of California brand is mild for your face, which makes this cleanser suitable for every skin type! The perfume-free Face Wash cleanser gently cleanses your skin and ensures that the skin feels fresh and smooth after using the cleanser. The ingredients Aloe Vera and Ginseng in this Face Wash moisturize your skin, so that it does not dry out. The Coconut in the cleanser removes sebum and excess fat. We recommend that you use this cleanser daily.